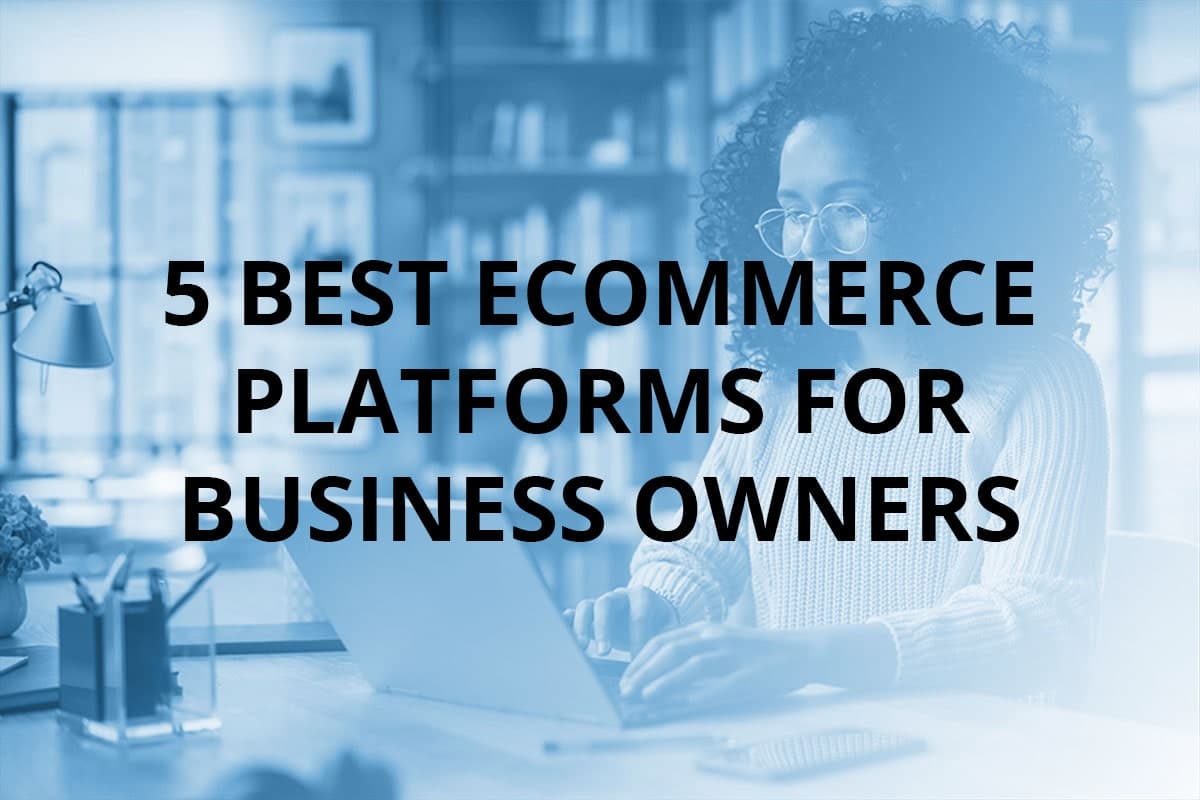 You might notice ecommerce platforms are shifting from "optional" to "mandatory" for companies of all sizes with products to sell online. Sure, you can sell independently through a custom-built ecommerce website, but be prepared for the hefty development costs and technical headaches.
If you really want to scale your business and have liftoff, you need a third-party software application to act as the backbone of your online retail experience. Put another way, if you don't use one of the best ecommerce platforms, it's going to be really hard for you to compete online, especially in a post-pandemic world.
Need help keeping up with your ecommerce orders?

Why Does The Ecommerce Platform Matter?
When you choose technology to build or augment an online store, you are putting a huge amount of trust in the company providing it. An ecommerce platform is a software application at the nexus of complex functions, such as inventory management, CRM, web design, mobile commerce, and analytics. A lot goes into building a dynamic and user-friendly interface to help you streamline how your business interacts with customers, clients, and employees.
The best ecommerce platforms have an intricate alchemy of pricing, features, customer service, convenience, and simplicity. The technology needs to offer features, such as the ability to list products, an SEO strategy that launches your product pages to the top of search engine results, shopping cart abandonment recovery, and seamless integration with a fulfillment center.
Our Recommendations For The Best Ecommerce Platforms
A challenge for business owners is finding the right technology that fits their needs. If you feel overwhelmed by the choices, pull up a chair. We've put together a guide detailing the pros and cons of the best ecommerce platforms to help you decide.
Shopify
Shopify has been a dominant player in the ecommerce space for 15 years, powering more than 1.6 million retailers online from large multinational corporations like Budweiser to kitchen table operations. The all-in-one system provides all you need to build and promote your business online like templates, a payment processor, and email marketing tools. Plus, Shopify easily integrates with complementary services such as automatic order fulfillment. The subscription-based service is affordable starting at just $29/month after a free trial.
Pros:
Extra simple setup with a straightforward and intuitive interface
Wide range of plans from basic to an enterprise-grade version of the platform for big corporations
Comprehensive point-of-sale (POS) functionality and accompanying hardware to sell online and in physical locations using the app
Shopping cart abandonment recovery tools available on all plans
Cons:
Content editor doesn't let you drag-and-drop to lay out text and images
Professional reporting feature is only available in higher-cost plans
Limitations on handling product variants and options
Key functionality often requires installation of an app
WooCommerce
WooCommerce is a customizable ecommerce platform great for businesses that already have a site built through WordPress. Rather than starting over on a new platform, you can add the WooCommerce plugin to any existing WordPress site for easy selling. The platform is highly customizable due to its open source, meaning you can modify everything – add unlimited products and accept as many orders as you want. The basic plugin is free on a self-hosted WordPress site, but costs can add up when you factor in paid additional features, such as hosting, domain name registration, templates, and marketing.
Pros:
Easy to install and configure on WordPress
Less of a learning curve if you're already familiar with WordPress
Easily scalable with an abundant free and paid extensions marketplace to add features
Cons:
Requires knowledge and proficiency in WordPress
Self-hosted which means you have to handle updates and maintenance
Design themes look a bit dated
BigCommerce
BigCommerce is a cloud-based platform that lives up to its name, because it's geared toward large volume sellers like Ben & Jerry's and bigger small businesses. BigCommerce offers web hosting, international selling, SEO tools, and multichannel selling on social and third-party marketplaces so customers don't have to buy directly from your store. The platform's plans are free for 15 days and start from $29.95/month for unlimited products.
Pros:
Flexible approach to product options
Offers third-party calculated shipping rates, even on entry-level plans
Makes it easy to sell in multiple currencies
Provides professional reporting functionality on all plans
Cons:
There is a limit on online sales you can make. If you exceed a certain amount, you must upgrade your plan
Shopping cart abandonment recovery services are only offered on more premium plans
Most design templates cost between $150 and $300
Square
You may only think of Square for payments on-the-go, but it transitioned to becoming a full ecommerce platform for merchants after purchasing the website building app Weebly in 2018. You can now set up electronic shopping through Square for only the cost of payment processing (2.9% + 30¢). You can upgrade to paid plans for more features and functionality, such as unlimited storage, third-party integration, custom URL, and analytics.
Pros:
Setting up a digital marketplace on Square can be as inexpensive as you like, i.e. you can launch with no monthly fee
Automatically syncs the digital store with Square POS
In-house and on-demand delivery
Attractive design templates
Cons:
No adjustable rates on shipping
Some features like fulfillment, shopping cart abandonment emails, and real-time shipping rate calculators are limited unless you pay for upgraded subscriptions
Account stability issues are common
Wix
Wix is a great option for small businesses, freelancers, and individual sellers. If you're looking to build a website and include a shopping cart, Wix is the ticket. The powerful site builder doesn't skimp on ecommerce features like order tracking, automated sales tax, and abandoned cart recovery. Similar to other platforms, Wix offers a free trial with paid subscriptions starting at $28/month for a basic plan.
Pros:
Robust third-party app and extension marketplace
Interface is easy to use, with a drag-and-drop editor and mobile responsive templates
Lots of creative freedom and beautiful designs
Cons:
Doesn't alert you when inventory levels are running low, making it difficult to scale
Sales tools aren't very sophisticated
Not enough control of editing on the backend of your website
Spend More Time Running Your Business – Let Us Handle Your Order Fulfillment Needs
Ultimately, the best ecommerce platforms help you reach the goals and objectives you have set for your business. Improving the quality of your ecommerce experience is an ongoing endeavor you shouldn't have to journey alone. That's where we have a part to play in propelling you forward.
While you're focused on taking technology to the next level, we'll take the stress out of fulfillment. If you plan to grow your business, contact Ship My Orders today and we'll help you rise to the occasion.