How Much Does Ecommerce Fulfillment Pricing Cost?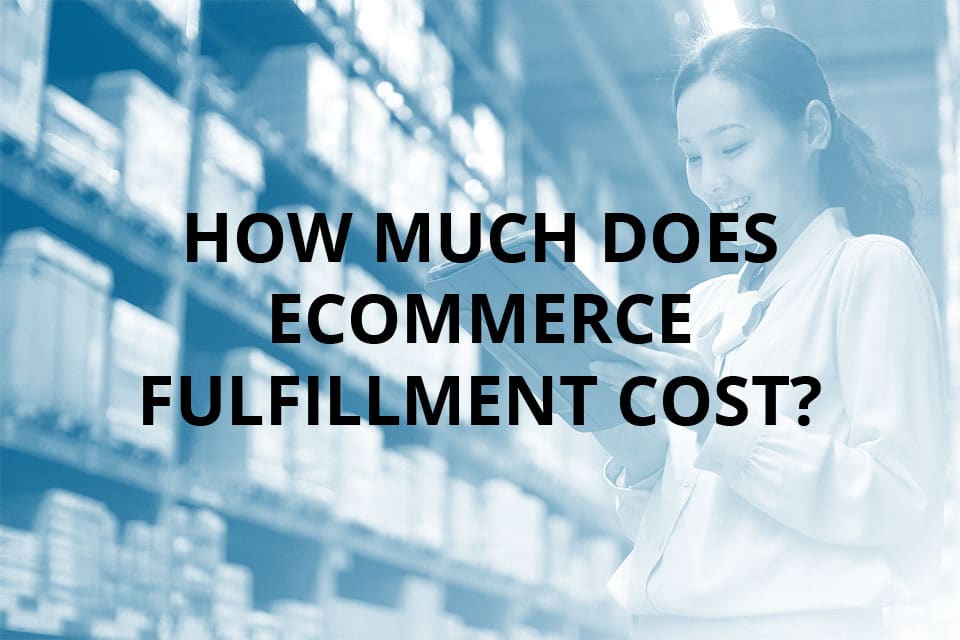 Outsourcing order fulfillment can be a great way to improve your business operations. You'll be able to increase sales without having to worry about taking the time to process orders and prepare them for shipment. However, you may be worried about the costs associated with eCommerce fulfillment.
See what you would pay for ecommerce fulfillment:


How Much Does eCommerce Fulfillment Cost?
The exact cost of eCommerce fulfillment will depend on a variety of factors. These include:
1. Setup and Account Management Fees
Most fulfillment centers charge a one-time fee to get started. This fee will be based on the size of your business, the steps involved in order processing and delivery, any customized features you might need, and other considerations. Companies can pay anywhere from $100 to $1,000 for the initial setup.
Businesses may also have to pay for account management services, which includes tasks that go beyond order fulfillment, like updating inventory. This is often charged as a flat rate ranging from $75 to $250 per month.
2. Receiving and Intake Fees
The fulfillment center will charge a fee for receiving your inventory into the warehouse. It will cover the costs of center employees completing intake-related tasks like:
Unloading
Sorting and counting the merchandise
Entering products into their database
Placing the merchandise in the warehouse
The cost you will pay for receiving depends on the fulfillment center. Most will charge on an hourly or per-unit basis. Hourly fees can be $20 to $50 on average. You can expect to pay between $5 to $15 per pallet or $0.25 per item if the center charges by unit. Prices may increase if you need additional services like damage inspection.
3. Storage Fees
The actual storage fee that you'll pay will depend on the size of your products and how they're stored.
You can expect to pay an average of $10 per month for each pallet you have in the warehouse. However, if you're worried about paying for "dead space," the fulfillment center may allow you to pay by cubic feet, which ranges from $0.30 to $0.55 per cubic foot monthly. These fees cover the storage of your inventory until it's shipped to the customer.
If you sell small items, they may be placed in storage bins for easy order fulfillment, which usually range in price from $1.00 to $2.50 each per month.
4. Order Fulfillment Fees
Order fulfillment involves the process of picking orders from a business's inventory and packing them for shipment. Depending on the vendor, the packaging materials may also be worked into the cost.
Typically, centers will charge a per-order fee as well as a per-item fee. For example, you may pay close to $3 for the packing of one B2C order as well as $0.25 to $0.50 per item that needs to be picked. If any of your products need assembling before shipment, the center may also charge a kitting fee, which ranges between $30 and $50 per hour.
5. Shipping Fees
Many fulfillment centers partner with various carriers (USPS, FedEx, UPS, etc.) as a way to reduce shipping costs. Generally, these vendors have obtained a volume discount through each carrier, so they'll be able to offer lower pricing than you'd pay using your own delivery service. Shipping costs will vary greatly, depending on the product size and weight as well as the individual carrier's fees.
6. Returns
For customer returns, the fulfillment center will charge a fee to receive the product, inspect it, and, depending on the inspection, dispose of it or place it back into your inventory. This fee is similar to the fees charged for order fulfillment.
Process of Getting a Thorough eCommerce Fulfillment Pricing Breakdown
Ship My Orders considers all of your special needs in order to provide you with the most accurate quote possible. Your pricing will be based on the how much warehouse space you require as well as the expected volume of orders our staff will need to process each month. How much space you need depends on the size of your products and the volume of inventory we have to keep in our warehouses to avoid out-of-stocks. The more stock we will need to keep on-hand, the higher your price will be. Your cost will include a fee for the space used in our warehouses as well as a fee for each package that our staff processes.
We realize that there are special circumstances with nearly every business, and we want to be able to give you a more exact price for consideration without any surprises. When you fill out our custom quote form, you provide us with the majority of the information we need in order to understand what special needs you might have, like special packaging.
Once we have the necessary information about your business and the kinds of shipments we will be expected to fulfill for you, we will be able to give you an accurate price that will consist of your monthly storage fees as well as the fees associated with the fulfillment of each order by our staff.
Ship My Orders can help you take your business to the next level with comprehensive order fulfillment services. Contact us today to learn more.