How to Shift Your E-Commerce Business to Succeed During the COVID-19 Pandemic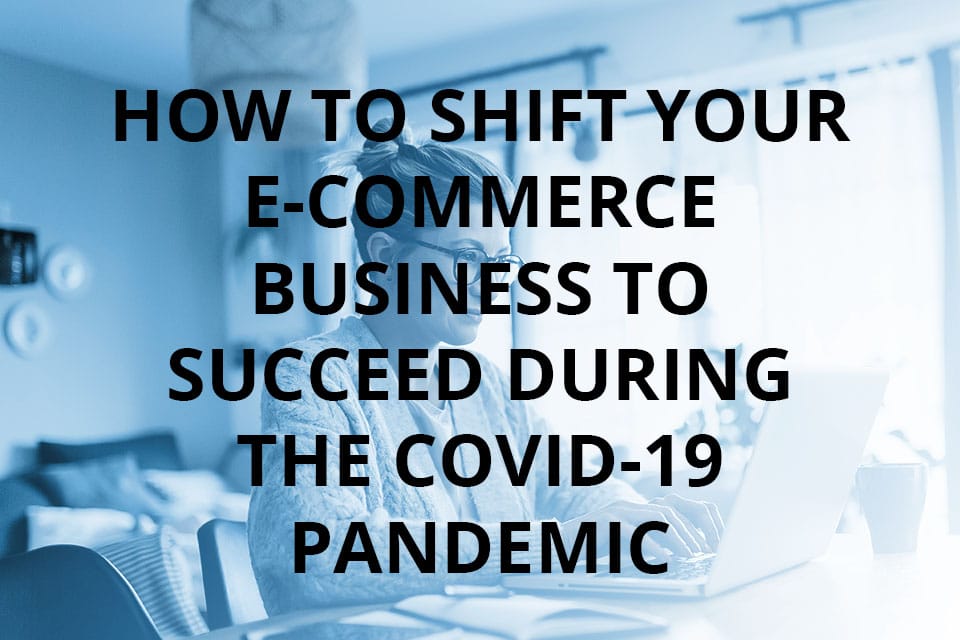 The COVID-19 pandemic has caused severe economic damages across the globe. Small businesses are undoubtedly one of the industries hit hardest by the pandemic, and online businesses have not been spared, leaving owners grappling to keep operations running.
E-commerce fulfillment can help online businesses not only to survive but also to succeed during this unprecedented time. Here's how you can shift your e-commerce business to thrive amid the pandemic.
Want to help your e-commerce business thrive during the COVID-19 pandemic?


Be Honest About Fulfillment Time
Curfews and social distancing restrictions have led to fewer work hours/days, fewer staff members, and a range of other limitations in the workplace. This can slow down the order fulfillment process. It's important to be transparent with your customers about these delays. Being honest and upfront about how the pandemic has slowed down operations can help you avoid customers becoming frustrated when their deliveries take longer than usual.
Lengthen Return Period
An extended return period is a great way to show your customers that you understand what they're going through during the pandemic. Considering people are going outside less often, the last thing they'll want to do is take time to return a product that's under a tight return window. Your customers will appreciate the extra time to return their products, making them more likely to purchase from your company in the future.
Adjust Your Inventory
As more people remain locked in their homes, predicting demand and supply is a little more challenging for business owners. As pandemic hotspots continually change, customer demand and inventory supply fluctuate. Manual inventory management practices are too basic and labor-intensive for the dynamic times we are in. Inventory optimization is the best way to deal with the fluctuations. The goal is to achieve high stock availability with the lowest possible inventory investment.
There are three areas where inventory optimization can help supply chain management (SCM) teams.
Demand forecasting. 30-day rolling averages forecast calculations are only reliable when demand is stable. An inventory optimization tool uses a statistical forecasting formula to account for demand variance. This recognizes that every item has a varying demand pattern.
Carrying the right inventory items to meet demand. Inventory optimization helps classify items and focuses on the availability of the most crucial items to the business. It helps achieve the highest level of service for products with the most demand and ones that are less expensive to keep in stock.
Avoiding out-of-stocks. Inventory optimization makes it easy to track lead times and update the purchase requirements automatically. This makes it easy to secure supplies.
Inventory optimization will automate stocking rules and reordering parameters. This can help guarantee that all the service levels are met so you don't find yourself with too much or too little of your critical inventory.
Automate Shipping
When your shipping process is efficient, you will be in a better position to scale operations while keeping costs down. Automating shipping will not only save you time but also guarantee consistency, streamline processes, and increase convenience. Small business discounts offered by carriers can also help keep costs down. One of the best ways to automate shipping is by using an e-commerce fulfillment center that already has a relationship with popular carriers.
Analyze Your Automated Emails for Leads and Customers
Email automation is one of the most effective channels for marketing your brand. The emails can be triggered to send a promotion to someone who takes a specific action on your online store, which can help you earn more business. They can also be designed to keep existing customers in the loop about their order.
Automated emails can help keep your company top-of-mind. You can also use them to be more transparent about delivery expectations and other things like your return policy. Here are some examples of the types of emails your business can send:
Thank you emails
Welcome emails
Download the app and stay up to date
Your order is on its way
Product review emails
Our best-rated products
Blog updates
Automated emails can also be used to collect reviews either manually or with the help of software. Analyzing feedback/reviews helps refine your products and services to improve the customer experience.
Lower Your Costs
Lowering operating costs should be a priority during this pandemic. There are three easy ways of doing this. The first is to focus on existing customers. After all, it is more expensive gaining new customers than retaining existing ones. To retain more customers, be sure to:
Offer exceptional customer service
Provide deals and discounts
Take complaints seriously
Next, consider switching to more affordable payment options. Use payment options your customers will appreciate that have low transaction costs. If you don't want to drop your current payment outlets, call them and try to negotiate the transaction costs. They may be more willing during the pandemic.
Optimizing shipping can also help you lower costs. Shipping costs are one of the main revenue-killers for online businesses. Working with a fulfillment center is an ideal way to cut shipping costs without sacrificing quality since they can usually offer a discounted rate.
Optimize Your E-Commerce Fulfillment Services and Thrive
As a business owner, you need to make sure your company will be able to survive this pandemic. With the help of an e-commerce fulfillment center, you can optimize order processing and delivery so that your business can thrive. At Ship My Orders, we help with everything from receiving orders and warehouse storage to picking and packing orders to shipping products to customers. We are committed to streamlining your operations and helping you fulfill orders faster. Contact us today to find out more.