Streamline Your Business's Shipping & Fulfillment Processes in Time for the Holiday Rush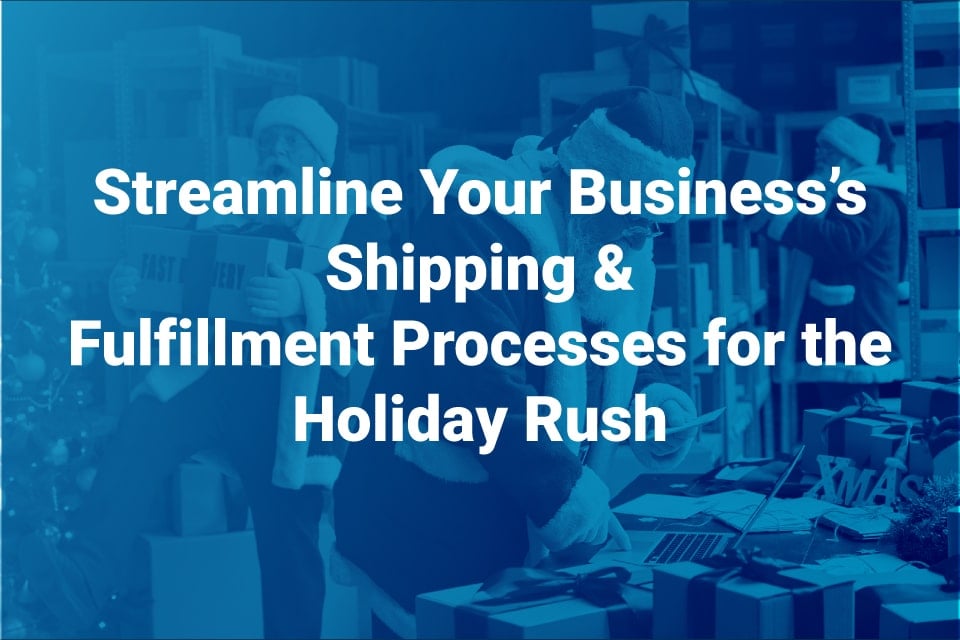 Winter is coming and so are the holidays. If you're bracing for the impact of holiday demand, your business might need a new ecommerce fulfillment partner. A 3PL can provide your business with the additional packing, shipping, returns, and customer service capabilities necessary to avoid bottlenecks, keep customers happy, and sustain growth.
Holiday Fulfillment Issues: What to Watch For (and How to Avoid Them!)
Online retailers face challenges at every stage of the logistics process, including order processing, order picking, shipping, and returns, or reverse logistics. These problems can threaten the survival of your business if left unchecked.
The most common holiday fulfillment issues online retailers face include the following:
Dropped orders

Low stock levels

Tech issues

Picking errors

Covering shipping distances

Delays

Processing returns

Customer Service

Handling packages
Check out these tips for using a 3PL like ShipMyOrders to scale your business's shipping and service processes for the holiday rush.
Forecast holiday demand
Holiday demand can be unpredictable from year to year, making it critical to forecast for each season. With this information, you can schedule the logistics services you need ahead of the holiday rush. Without this data, you could pay more for shipping, erode your margins, or even miss deadlines and sales.
Research your top selling items before the holiday season begins and order your stock accordingly. Too much inventory that doesn't sell could sink your business. On the other hand, missing out on the season's biggest craze could cost your business sales and the chance to reach countless new customers.
Know your inventory
Take stock of your existing inventory as you head into the holiday season. With this information, you can better meet expected demand and find the logistics partners your business needs. You can also begin positioning inventory across your logistics chain in anticipation of demand.
You'll want to check with your existing providers to be sure they can still handle the type of inventory you send. They'll also need to have the correct facilities and training to serve you. For example, not every 3PL is ideally suited for e-commerce businesses.
Prepare your SKUs
Prepare your barcodes and SKUs ahead of the holidays to get a handle on your inventory. Barcodes and SKUs can save you countless precious hours as you move to meet seasonal demand. These are also critical to ensuring the accurate and efficient processing and fulfillment of your orders.
A modern 3PL, including ShipMyOrders, will require that your business use barcodes and SKUs for its products. These cut costs at every stage of the logistics process and allow us to ensure the speedy delivery (and return) of all products, keeping your business on track and your customers happy. Barcodes and SKUs also make it easy to track sales and conduct analytics on the vast amount of data your business will generate.
Check In With Your Suppliers and Shipping Provider
Going into the holiday season, it's vital to know and trust that your logistics partners.. Are your suppliers, vendors, and shipping providers still the same companies you signed up with? Or have there been changes in focus, management, or new challenges that could impact their ability to deliver your package on time to customers? Are they still the right fit for your business?
You'll want to find out some general information about each of your partners. Ask about their financial stability and payment terms, and your insurance options, especially in the case of non-delivery or late arrivals.
Ask your suppliers how they determine price increases. Request estimates for your expected gross margins and total cost for each order. Find out if you qualify for volume discounts and what steps you can take toward cost reduction. When speaking with your vendors, have a frank discussion about their competitors, preferably with management.
When speaking with your shipping provider, be sure to cover the basics: ask if they're insured and bonded, how their prices are determined, and what can make them change. Find out who handles their freight and if you can use a service of your choice. You'll also want to ask yourself if you trust them to deliver your product on time to your customers, as your reputation will be in their hands.
Your partners canmake or break your business, especially during the holiday season. That's why it's important to build relationships with them and to keep in touch throughout the year. With regular communication, you'll always have a finger on the pulse of any issues that may arise on their end, such as shipping delays or backorders on the supply chain.
Don't Skimp on Packaging
Packaging is cheap, but shipping delays can cost your business big. Studies indicate that 84% of customers will avoid buying from you again if you deliver a poor shipping experience. Another 45% of customers likely won't shop with you if your delivery arrives late. As a 5% bump in customer retention can boost your business profits by up to 95%, it's vital to monitor your packaging.
Ensure all the packaging supplies you'll need are stocked up and on-site with your 3PL for fast shipping during the holiday season. You could face long shipping delays for missing something as simple as cardboard. With recent supply chain difficulties, you could also have trouble finding any in a pinch if you need it. Skimping on packaging could cost your business dearly.
Returns and Customer Service
Your ability to process customer returns is just as vital to your business's success as your ability to make deliveries. Around 20-30% of e-commerce purchases are returned, which can strain your business if you don't have an efficient process to handle them. Returns must be done quickly and efficiently to keep customers happy, even if they decide not to shop with you.
A fast and easy return process can improve your overall customer experience and boost customer retention – or at least spare you from bad reviews. Even your dedicated customers could sour on your business without an easy (and ideally, free) way to make returns. An efficient return process can also protect your margins, which can quickly erode if you handle returns on an ad hoc basis.
The right 3PL can create an efficient system to handle returns and any customer questions that arise during it. A 3PL, like ShipMyOrders, that offers reverse logistics services will have systems in place that can keep your return costs at a minimum. As the face of your business, they'll also strive to maintain your trust by offering friendly and professional customer service for your customers.
Ship My Orders is Your West Coast 3PL Provider For Fast, Accurate Order Fulfillment and Logistics
Your 3PL needs to be smart, fast, and flexible to keep up with holiday demand. They also need to have the facilities, technology, and expertise to handle the needs of your business. Your fulfillment partner also needs to be someone can trust to handle the delicate return process. A 3PL's ability to execute in these fields can make or break your business.
At Ship My Orders, we've built our business on trust and can serve as your partner this holiday season. We offer two-day shipping to most areas in the continental United States, robust return logistics services, and are committed to being an extension of your brand. Our friendly and professional customer service staff can also handle any customer concerns that may arise so you can focus on what your business does best.
Contact us today to get a quote to make this holiday season one for the records!