4 Types of Warehouses Available for Storage and Warehousing Services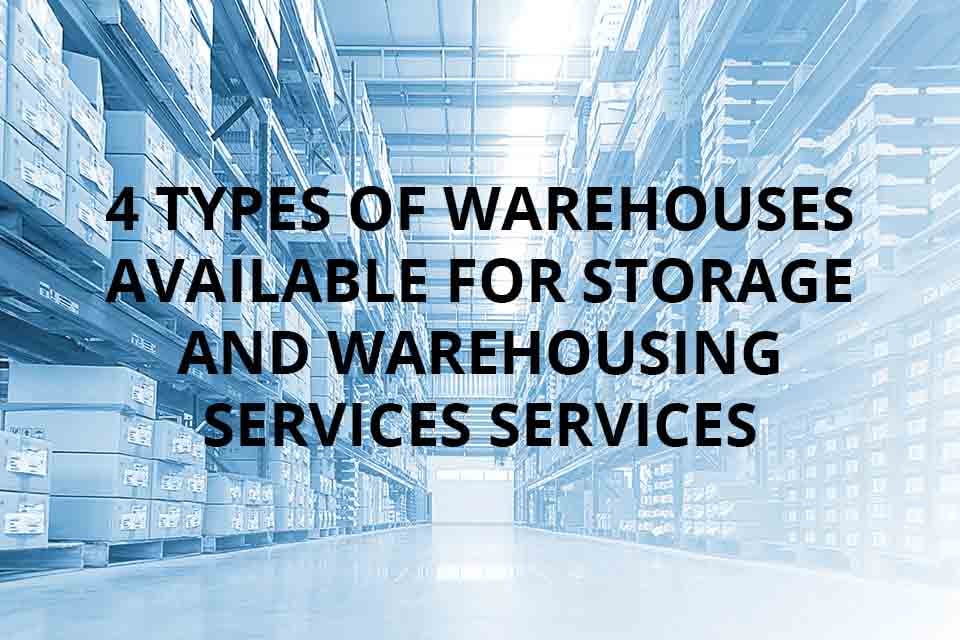 Nothing satisfies you more as a business owner than seeing your business grow. But you know what they say: "More money, more logistics problems." As your business brings in more customers, the only way you'll keep them is if you scale your ability to deliver products quickly and in volume. As your business grows, the warehouse you've been using that seemed so vast a few months ago looks smaller and smaller every week.
Your business needs a dedicated inventory fulfillment services management plan in place to maintain its momentum. Warehouses are critical to this, but they'll likely play a different role than what you've been used to so far. Learn about their capabilities so you can choose the right ones for the next stage of your business's growth.
Looking for storage warehousing services to grow with your business?

Where Do Warehouses Fit Within Logistics and Storage?
Warehouses serve as storage areas for large amounts of inventory that will typically have to wait a month or more to be shipped to customers. While other types of logistics facilities provide more timely service and a wider offering of services, warehouses still occupy a vital role in a growing business's logistics chain. Quite simply, there are few other places that are safe and clean enough for businesses to store inventory.
With the growing sophistication of the logistics chain overall, warehouses have also diversified into offering different types of services. This process has accelerated as fulfillment centers arose to challenge the traditional dominance of the warehouse as the preferred storage option for inventory. Your business has more options to choose from than ever before, but choose carefully, because some warehouses are better suited for your needs than others.
Related: Help! I'm Outgrowing My Warehouse!
Self-storage Warehousing
Self-storage warehousing is growing in popularity, but it has a number of drawbacks that make it ill-suited for businesses when compared to store warehouses. For one, these facilities often lack climate control capabilities, and those that include it typically aren't calibrated to hold inventory for businesses. They can also be expensive over the long-term, especially if you're renting a larger space to hold large amounts of inventory. Facilities with limited hours can also cause problems if you experience a surge in orders that need to be fulfilled now.
Different Types of Warehouses
Storage warehouses are quickly diversifying to meet growing demand for their services across many industries, especially e-commerce. During 2020's record year for e-commerce, Black Friday online sales zoomed to $9 billion, representing a 21 percent jump year-over-year. The trend is only set to continue, and yesterday's sleepy warehouses are quickly adapting to the new reality.
Related: How to Shift Your E-Commerce Business to Succeed During the COVID-19 Pandemic
Public Warehouses
Public warehouses are owned by government entities and can be utilized by private sector companies. They're highly competitive and are often rented out on a first-come, first-served basis. They play a vital role in supplementing the supply chains of companies due to their flexibility despite their limitations.
Pros
The public warehouse can be an affordable storage warehousing option, allowing for both personal and business use for a short time.
It's easy to rent spaces in multiple locations and you can scale up (or down) your rental space as your needs change.
With a pay-as-you-go model, you are free from a lengthy contract for space.
Cons
Public warehouses are often not current with state-of-the-art technology.
They may also experience surges in seasonal demand, making it difficult to obtain space when you need it most.
Over time, the pay-as-you-go model can be more expensive than what you would pay for a permanent space, at least in terms of the price per cubic foot.
Private Warehouses
A private warehouse is owned by wholesalers who rent out space on longer-term contracts to a limited number of customers. They typically offer a wider range of services than public warehouses, including greater access to and oversight of your goods. They usually include a more specialized workforce that can do more than basic storage warehousing tasks. Private warehouses may also be owned by a single company that uses it for its own purposes. However, those added benefits come at a cost, which could put them out of reach of some companies.
Pros
A private warehouse offers exclusive access to a limited number of customers or only your employees, if you own the building.
They allow for a greater degree of control over operations and more specialized services than a public facility.
A private warehouse is a good option for e-commerce businesses that need a long-term solution for a strategic location.
Cons
A private warehouse is a more expensive option at first than a public warehouse and requires a substantial capital investment should you decide to build it yourself.
If your company owns the warehouse, your logistics chain won't be as flexible as other companies, should you need to change it.
Bonded Warehouses
Bonded warehouses are used to store, manufacture, or otherwise manipulate dutiable goods prior to their sale. Goods may be stored for import or export duty free until such a time as they are released to their buyers, at which time the customs fees are paid.
Pros
Restricted items can be stored secure for up to two years until legal paperwork is completed.
Their customs fees are not paid until products are purchased.
This also allows companies to store more of their product closer to foreign consumers.
Cons
After a period of two years, the goods inside a bonded warehouse must be sold if they haven't been already, sometimes at a loss to their owner.
Bonds must be paid to warehouse authority whenever a space is rented. This ensures no monetary loss is incurred when products are released.
Bonded warehouses are only available for goods that face duty fees.
Smart Warehouses
Smart warehouses heavily utilize automation to minimize human interaction with products at every stage of the logistics process. They may integrate a wide range of technologies, including robotics, RFID tagging, artificial intelligence, warehouse management systems, and various online tools to make agile, efficient processes.
Pros
Much of the activity in a smart warehouse is automated and streamlined to eliminate human error while improving efficiency.
They improve transparency, as you'll have visibility around the clock into each stage of the logistics process.
These facilities typically offer greater scalability than human-centric operations
When a smart warehouse works as intended, you'll have little need to interact with the few humans who run it.
Cons
Because it is automated and streamlined, AI sometimes makes mistakes in orders that should require human judgement. These mistakes could damage your reputation and may not be caught until after they have occurred.
Automated systems are vulnerable to hacking.
Power outages can take down critical systems, impeding warehouse logistics.
What to Look For in Storage and Warehousing Services
The key to finding the right storage warehousing provider for your business is knowing what you need. Here's a few questions to ask to guide your search.
Location: Where is the warehouse located? How close is it to your target market? Is it near major transportation hubs that could help you easily reach other markets in an emergency?
Scalability: How well can the warehouse scale its services to meet the projected needs of your business? Are they equipped to handle seasonal or sudden spikes in demand?
Reliability: What kind of record does the warehouse have in protecting its customers' inventory? What is their policy if your inventory is damaged or delayed from shipping while in their facility?
Price: How much do the warehouse's services cost?
Searching for Storage and Warehousing Services?
Choosing the right logistics partner for your business isn't easy. You don't just need their storage and warehousing services – you also need to be able to trust them as a fulfillment expert. At Ship My Orders, we place a priority on building relationships that make us a true partner to every business we serve. Let us give your business the treatment it deserves to help you successfully grow into its full potential.