4 Tips for Choosing a Trustworthy 3PL Provider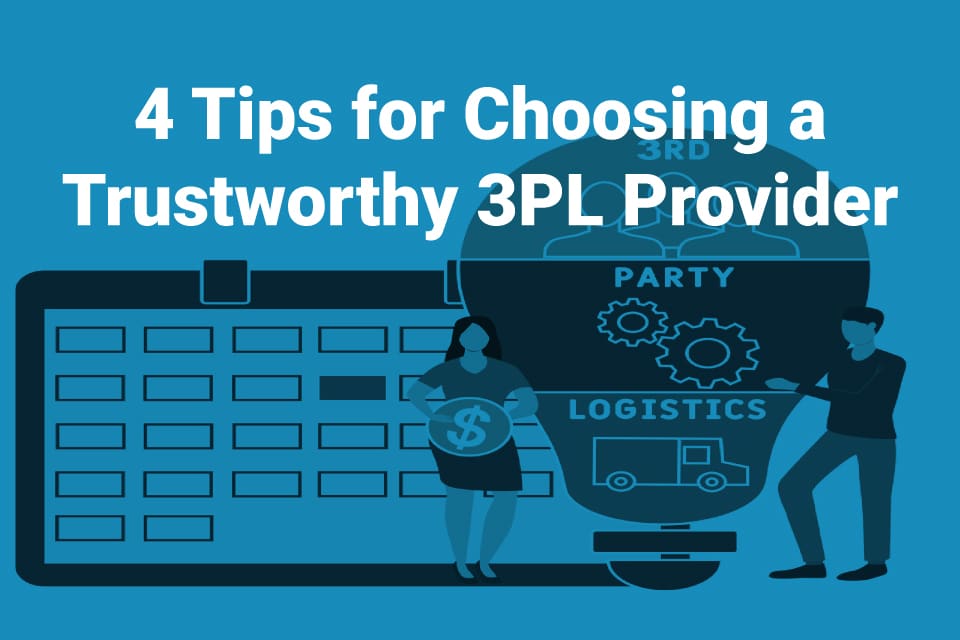 Trust remains the most important factor to consider when choosing a 3PL, as it can make or break an eCommerce business. All it takes is one bad review or a missed shipment to upend years of your hard work. How can you be sure that a 3PL will actually deliver before signing a contract with them?
Establishing trust with a 3PL, can be extremely difficult, especially if your ability to see them in-person is limited. However, there are some key steps you can take to help you evaluate a 3PL's trustworthiness up-close and from afar. With some due diligence, you'll be able to choose a 3PL partner you can trust with your business now and well into the future.


1. Dig into their reputation.
Your 3PL will hold the life of your business in its hands, making it important for you to review their reputation before working with them. Investigate them online, and in-person if possible, to see if there are any red flags you should be aware of. Don't be afraid to ask them questions about any of your findings, as their responses can give you further context and insight into their character.
Some of the methods you can use to evaluate a 3PL's reputation include the following:
Conduct online research of the company and its leadership

Read online reviews and take note of which ones may require clarification by the 3PL

Ask the 3PL for a list of their current and past clients

Call a handful of the 3PL's clients for references or information about their experience

Talk with the 3PL's current and former employees to evaluate working conditions
Some 3PLs change their names to escape bad reviews, which may be hard to uncover without some investigation. This makes a thorough review of your potential 3PL partners necessary before signing any contract.
2. Consider their consistency.
Consistency is key in logistics, and a good 3PL will display it across their operations. A 3PL should have standard processes in place for every action they undertake, from packing and shipping goods to handling returns and customer service questions. Their organizational consistency (or lack thereof) will reflect back on your own business, as your customers will interact first with your 3PL.
One of the ways you can evaluate a 3PL's consistency is by asking them the same question about parts of their operations in different ways. Their answers can give you insight into how consistent they are across their organization, and if there are any potential points of failure you need to be aware of. A 3PL that offers a consistent level of service and customer experience should yield similar answers.
3. Ask detailed questions about the 3PL's systems and processes.
While it's important to research a 3PL, talking to them can yield just as much – or even more – critical information about their level of service and operations. Your interactions with a 3PL's representatives can give you insight into how effectively the organization communicates. You'll also get a sense of any potential points of failure that outside research won't indicate.
The way a 3PL treats you will likely be similar to the way they treat customers. It's likely that your 3PL will be the face of your business's operations, making it important to know if you can count on them to treat any questions with respect and urgency. You'll also need to see if you can establish a rapport with the 3PL, as that will be the key to building a successful working relationship.
4. Ask about security procedures.
Today's security threats are ever-changing, and a 3PL's security procedures can give you insight into how adaptable they are in this environment. By their nature, 3PL's feature numerous digital and physical attack surfaces and potential points of failure. They may also deal with hazardous materials, which require special training and procedures to safely handle and ship.
Ask a 3PL what types of physical security measures they've implemented, both in terms of infrastructure and personnel. A 3PL should also be payment card industry (PCI) compliant to protect customer data and have appropriate cybersecurity measures to protect against data breaches. They should also have HAZMAT Shipping, FDA, and DEA certifications.
Bonus: How to Decide if a 3PL is a good fit for your eCommerce business.
Even if you determine that a 3PL seems like they would be a trustworthy partner, they just might not be the right fit for your business. You'll want to consider how each candidate 3PL will accommodate your current and future business operations. A 3PL could be the right fit for now, but will they still be in three to six months, over the next year, or even three years into the future?
Finding a new 3PL takes a considerable investment in time and energy. The less your business has to repeat this process, the better. Take some time to cross-reference your needs with a 3PL's order fulfillment services to determine if they'll be a suitable long-term partner. What type of growth will your 3PL need to address in the future, and can they scale their services with your business?
Ship My Orders is your TRUSTED 3PL order fulfillment and logistics service provider.
It's hard to find a 3PL that you can trust – never mind one that can deliver in terms of service, flexibility, scalability, and ability to embrace the latest technologies. But at Ship My Orders, we've built our business around these principles. We know how vital they are to your business success, and how just one missed order or a bad customer review can sink a business.
Your business is built on trust — so is ours. With a dedicated customer service team, cutting-edge technologies, and the ability to reach anywhere in the continental United States in 48 hours, we're a 3PL you can rely on today, tomorrow, and for years to come.
Thinking about partnering with Ship My Orders? Get a quote and find out just how affordable it can be to work with a 3PL you can trust.