How do 3PLs Handle the Reverse Logistics Process?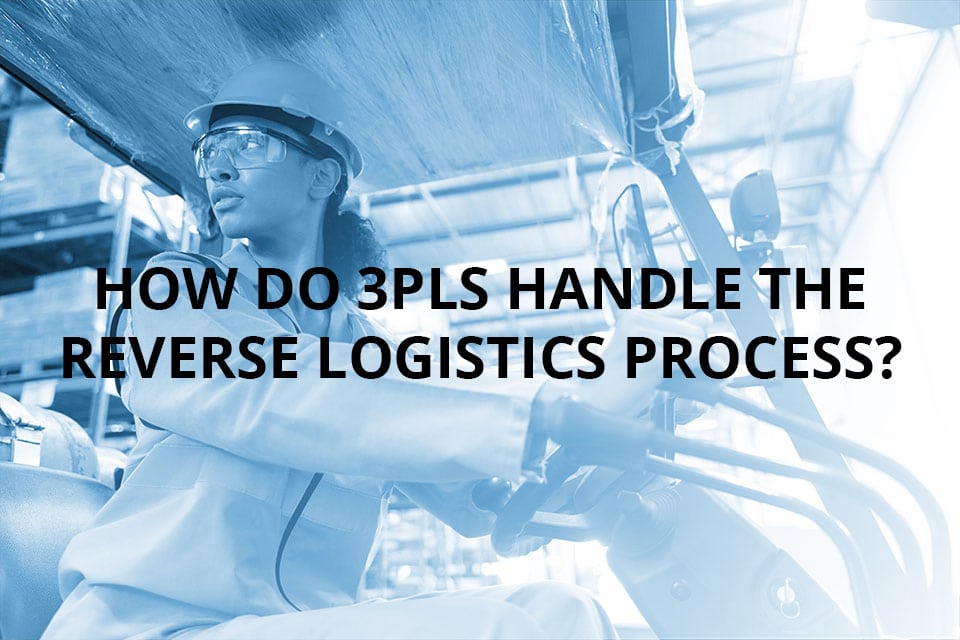 With around 25% of all online purchases eventually returned, your business needs a way to efficiently handle the flow of products back to your company from the consumer. Reverse logistics is the management of this process and is vital to the success of your business. Your company probably lacks the ability to handle this on its own and will need to outsource these duties to a company that handles reverse logistics, such as a third-party logistics company (3PL).
Looking for a secure third-party logistics company?

It's Logistics, but Backwards
Reverse logistics refers to the management of the flow of products back to your company from the consumer. Different aspects of this process include returns for warranties, refunds, repairs, recalls, sustainable disposal, and more. Without a robust reverse logistics chain, your company could be unable to service customers throughout their entire life cycle. This could eventually cause major problems for your business and leave you vulnerable to better-resourced competitors.
The Reverse Logistics Process
Learning the basics of the reverse logistics process can help you determine the right approach to creating or improving your company's own processes.
Communication
Customers need to know what they need to do in order to return a product. They will also want to know the status of their package as it is en route back to your company and then back to them, if they are sending it in for an exchange, repair or recall. Emails, text messages, and tracking codes can keep customers up-to-date and minimize the likelihood that they leave a poor review or take up bandwidth by contacting you directly about the status of their shipment.
Transportation
The returned items must be shipped back to your company, which is a process that can become costly if not handled systematically. Return shipping costs can quickly eat into your profit margins if not handled correctly. The items must also ship in a timely manner so you can recover value, exchange the item, return the item as repaired, or destroy it, if necessary.
Storage
Returned items will need to be temporarily stored en route to their final destination. Once at the warehouse, they will need to be sorted, examined, and shipped out again or repackaged and stored.
Repair
During repair returns, the item is examined and repaired if it is damaged. It's also given new packaging if that is damaged and the item can be resold. The item may then be shipped back to the customer or may be returned to inventory to be resold later. Items must be carefully tracked so they go to the correct destination, which requires sophisticated tracking software.
Customer Satisfaction
The reverse logistics process must lead to improved customer satisfaction. By the end of the process, the customer is either refunded or is sent another item. To accomplish this, the process must occur quickly, be free of mistakes, and be cost-effective for your business.
Advantages to Using a 3PL for Reverse Logistics
A 3PL can be an ideal reverse logistics partner for several reasons:
Human Capital: A 3PL has a dedicated team of specialists ready to serve you.
Turnkey Solutions: You won't have to build your infrastructure from scratch.
Technology: 3PLs have their own software designed to optimize the logistics process.
Distributed Infrastructure: 3PLs have numerous locations close to your target market for fast delivery times.
Lower Shipping Costs: 3PLs have more negotiating power to get reduced shipping rates for every parcel.
Convenience: Your business may already be integrated with a 3PL, allowing you to streamline your logistics services by keeping them with one provider.
Let Us Take Reverse Logistics Off Your Hands
Finding the right logistics partner isn't easy, and your choice right now matters more than ever as customers flock to online shopping. Your partner will handle integral components of your business and much or all of your inventory, meaning you need to be able to fully trust that they will deliver. At Ship My Orders, we work with a wide variety of companies growing in the ecommerce space and place a premium on delivering them quality service at every stage of the logistics process. Contact us today to learn how we can develop your company's reverse logistics capabilities to thrive in today's online market.