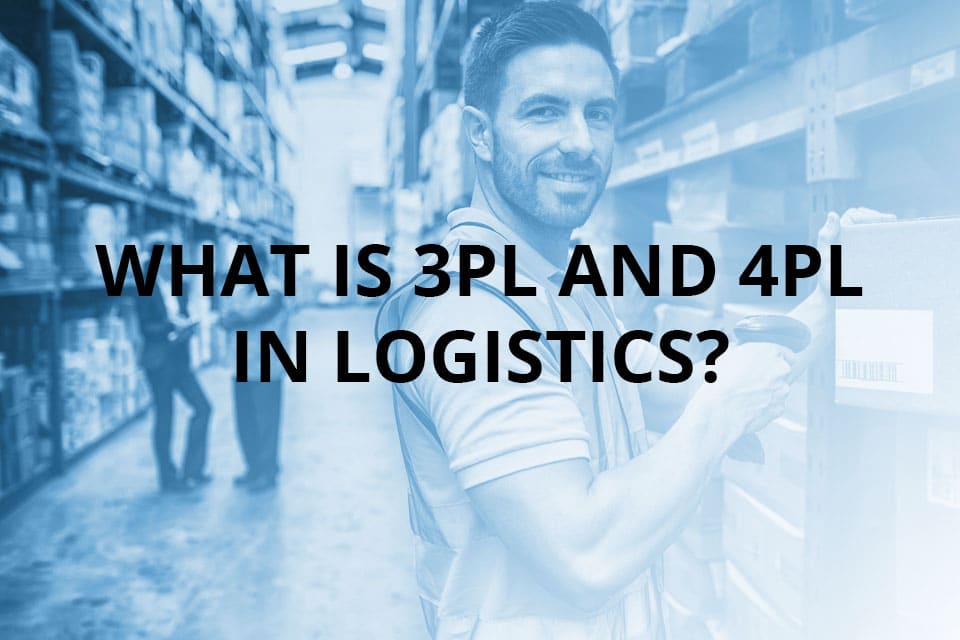 With your business sales growing, and your customer reach expanding across the country (and potentially internationally), shipping and fulfilling orders can become costly. Simply going to the post office to send out each package will no longer cut it. Considering the other responsibilities your company already manages, such as creating and advertising your product, you may need to take some of the weight from your company by outsourcing your shipping. In doing this, you can choose what type of logistics providers you would prefer, 3PL, 4PL, or perhaps both.
Do you need help with your order fulfillment needs?

What is the Difference Between 3PL and 4PL?
The main difference between these two logistics providers is your level of control. With 3PLs, business owners hire and arrange for the 3PL to store and deliver their products, while business owners hire 4PLs to arrange storage and delivery on their behalf. Business owners transfer all shipping logistics to a 4PL, completely outsourcing logistics management, with the exception of the individuals corresponding with the 4PL. When using a 3PL, your company will require a larger logistical department to oversee them, especially if it uses multiple providers.
What is Third Party Logistics (3PL)?
3PLs are companies that provide storage, transportation, and delivery services for various businesses. For instance, a cosmetics company will give a 3PL their makeup for the 3PL to store and package in their warehouse before transporting and delivering them to the customers.
3PLs are essentially the middleman between the business and the customer; however, 3PLs are not liable for lost or damaged inventory. Therefore, finding a reliable 3PL is vital to maintaining trust your customers' trust. Though 3PLs do not always require long-term contracts, the longer you work with a certain 3PL, the stronger your working relationship becomes.
Pros:
Cost-effective for large orders
Timely deliveries
Local and international shipping options
Will transport customer returns
Cons:
Loss of control over product and inventory
3PL does not take responsibility for loss or damages
Expensive for small orders
Multiple points of contact
Related: Choose: Amazon Fulfillment Program vs. 3PL Alternatives
What is Lead Logistics Providers (LLP) or Fourth Party Logistics (4PL)?
4PLs are precisely what their alternate abbreviation states: they take the lead in all logistical management. The 4PL provider takes these responsibilities off the business owner while maintaining communication with them in order to develop the most effective logistics process possible.
4PLs gather data as your company and shipping requests grow, so they can adjust the supply chain where needed on your behalf. Though your company does not directly work with providers in the supply chain, you have consistent contact with the people who do. In giving away control to a 4PL, you still keep the control close to home.
Pros:
Integrated technology to allow for greater awareness of the supply chain
Individualized strategic advice
Single point of contact
Completely outsources logistics, allowing your company to prioritize production
Cons:
Loss of control over logistics, more so than with 3PLs
Expensive for small businesses
Which is Right for Me?
As with most decisions, the right choice depends on your business. The budget allocated towards shipping and fulfillment and the level of control you want will determine which will work best for your company. If your company is on the smaller side with a tighter budget, you should consider simply using a 3PL, because their methods allow for a more flexible time frame and are cost effective when shipping in bulk. With savvy in-home logistics management, you and a 3PL can work out the best shipping processes yourselves.
If you refer a hands-off approach to maximize your production and marketing staff, and you have a decent budget set aside for shipping purposes, then a 4PL is a great choice. The stress of managing logistics will be off your shoulders, so you can prioritize your inventory.
No matter which provider you choose, your company will likely end up using a 3PL in the long run, as 4PLs often work with 3PLs that companies have already hired. Similarly, some 3PLs might transition into 4PLs as their working relationship with companies matures. While you may initially decide to use a 3PL, time may allow for both of you to grow and progress.
As your company expands and orders increase, you will need extra help to fulfill all those incoming requests. The biggest deciding factor will be how much control you want in the overall process, though you will find that 3PLs work best for smaller businesses, while 4PLs are more cost-effective for larger companies. Both logistics providers have their benefits and disadvantages, taking away the pressure of making the perfect choice. Simply decide in the best interest of your company, and you can adjust your methods as you learn.