What is the Difference Between 3PLs vs Freight Brokers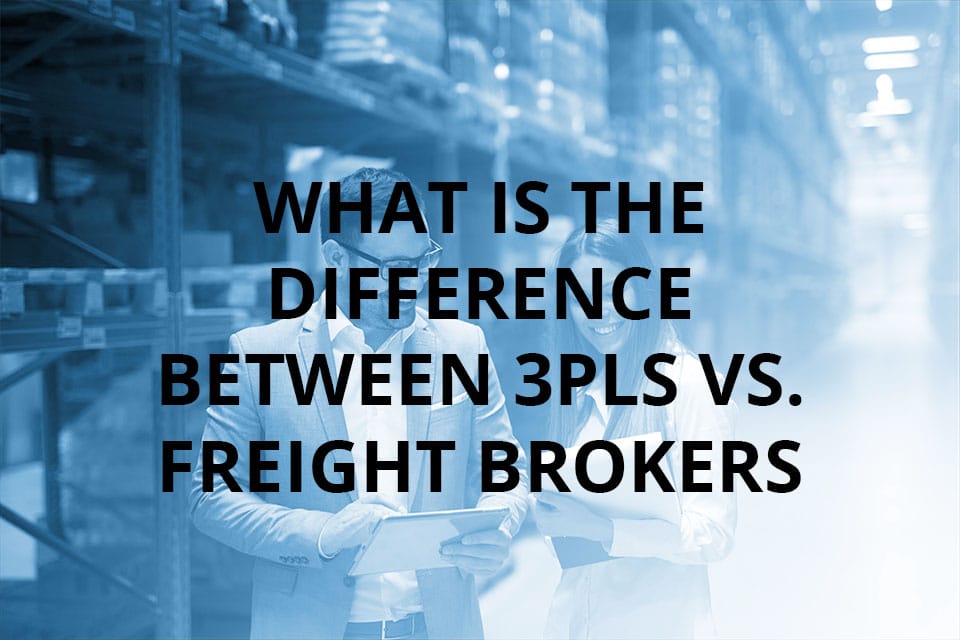 As your business expands and your clientele builds with it, you'll find yourself juggling more packages than you know how to handle. The more shipments you need to make, the more expensive it becomes. Finding a reliable carrier on your own is tricky when you have not made connections among the various carrier companies out there. Thankfully, there are already people who have a web of connections and know how to navigate the world of shipping. 3PLs, freight brokers, and freight forwarders can all help you move your product, but you need to understand how each of them works in order to find the right fit for you.
As the owner of a growing business, it's common to handle your own logistics at first. However, this only works up to a point. Eventually, your business gets too big for you to print labels and fill boxes in your living room. If you're planning on scaling, you'll definitely need to tap outside shipping services to keep up with your logistics demands.
Here are some of the common types of freight services business owners like yourself reach out to when they need to expand and scale their logistics capabilities:
Freight broker

Freight forwarder

3PL
Signs It's Time to Outsource Your Shipping
You want to scale
Shipping costs are rising
Free shipping is too hard to implement on your own
Delivery standards are falling
Too many carts are getting abandoned
You need outside expertise
Poor customer reviews
Low conversion rate
Your listings aren't visible enough
What Are Freight Brokers?
A freight broker is a transportation intermediary that ensures your product moves between a shipper and a carrier. Freight brokers arrange for a shipper's product to be taken by a carrier and typically work on a case-by-case basis. This means that shippers can approach a broker for one transaction without having to make a contract with them. A freight broker is an ideal partner for businesses that ship infrequently or have a one-off delivery that isn't part of a company's regular orders.
Freight brokers don't have any shipping equipment of their own, such as freight trucks or warehouses, and aren't responsible for delivering your products to their final destination. However, they do have an extensive network of reliable carriers they can call on. Shipping schedules can be chaotic, and a freight broker will know which carrier to pair with your shipment so that it arrives at its destination on time.
Pros and Cons of Freight Brokers
Pros
They can save you time and money on shipping
A freight broker can be a cost-effective alternative to a shipping department
Freight brokers know which shippers are reliable and which ones aren't
You can save on shipping technology costs
Your business can scale easier with a freight broker
Cons
You'll lose some control of your shipping
Anyone can become a freight broker since the barriers to entry are low
You'll need to do your research to find a quality freight broker
What Are Freight Forwarders?
Freight forwarders offer many of the same services as freight brokers, but there are some key differences that set them apart. Freight forwarders are typically more involved throughout the logistics chain than their counterparts and usually offer storage, consolidation, and assembly services. If you're moving goods internationally, a freight forwarder can ensure they move smoothly across borders and will handle the paperwork to do so. Freight forwarders also typically have extensive contacts among carriers, making them well-suited to long-term contracts or recurrent business from the same company.
Pros and Cons of Freight Forwarders
Pros
Lower costs and faster shipping times
Greater convenience since the freight forwarder handles shipping tasks
A freight forwarder can manage your consignment
Some freight forwarders offer special services such as expedited payments
Cons
If your goods are damaged, you must bear the loss yourself
The price of shipping can suddenly change
You'll lose some control over how your goods are shipped
Freight Brokers vs. Freight Forwarders
While the terms freight broker and freight forwarder are often used interchangeably, they refer to two very different roles in logistics. Freight brokers tend to be highly transactional with a domestic focus and tend to be part of only one specific event in the logistics process – moving goods between shipper and carriers. Freight forwarders handle this process and more, and may directly handle your goods, unlike a broker. Forwarders also tend to focus on goods that move between international borders and work to make the process smoother for their clients.
What Are 3PLs?
Third-party logistics providers, also called 3PLs, typically offer the services of freight brokers, freight forwarders, and much more under one roof. They can store, label, pick, pack, and ship a client's goods to their customers and track them at each stage of the journey, including returns. 3PLs have long-term relationships with their business clients and gather data to optimize the shipping process for them. Some 3PLs may also handle customer service related to shipping for their clients.
Pros and Cons of 3PLs
Pros
A 3PL brings greater capabilities to your business
You can focus on your core business instead of worrying about logistics
3PLs can offer substantial savings
Offers a safe place to store your inventory
Cons
Some 3PLs offer more services than you need
Less control over your logistics chain
Which Does Your Business Need?
Even when you know the differences between freight brokers, freight forwarders, and 3PLs, it can be hard to figure out which one is right for your business. Here are some helpful ways to think about your business's needs so you can find the right service for them.
If your business needs infrequent assistance with shipping and deliveries: You should look for freight brokers.
If your business needs regular assistance with packing, shipping and deliveries: You need to look for freight forwarders.
If your business needs regular assistance with packing, shipping, delivering, warehousing, and returns: You need a 3PL.
Choose a 3PL for More Logistics Services Than Freight Brokers or Freight Forwarding
Freight brokers and freight forwarders provide a fairly narrow set of services that can supplement many businesses' logistics needs. However, these services aren't enough to fulfill those needs on their own. If you're looking for a logistics partner who can provide a robust set of services that can get your products into the hands of your customers, then a 3PL could be right for you.
At Ship My Orders, we offer 3PL warehouse and logistics services that allow you to focus on your core business instead of worrying about building out your logistics capabilities. We place a high premium on earning the trust of our clients to better serve them. We provide excellent, in-house customer service for our client's customers and our staff is properly trained to prevent human error, resulting in more satisfied customers for the businesses we serve. Contact us today to learn how we can save your business money and time!