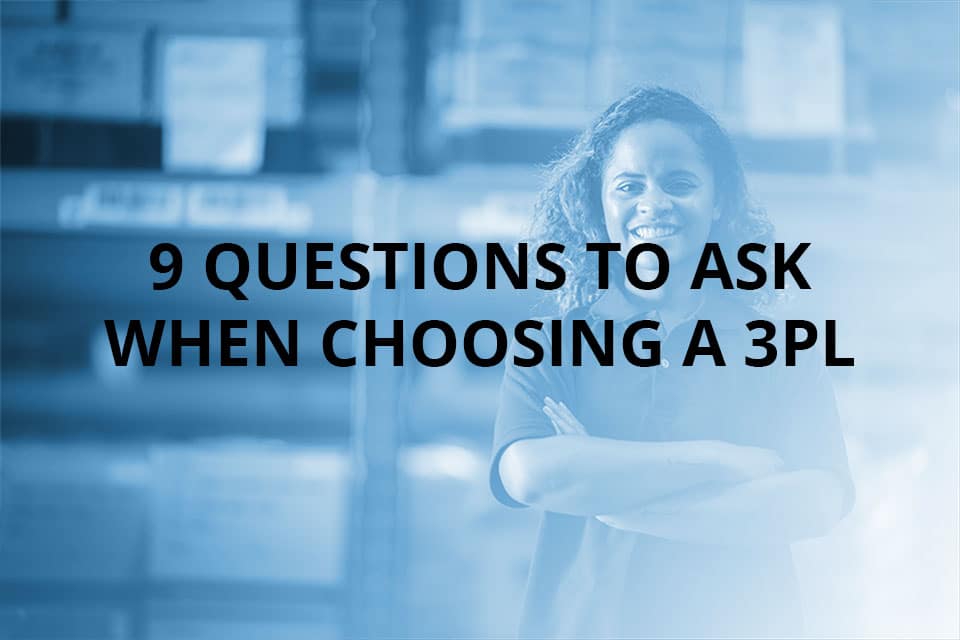 Is your 3PL logistics company striving for your business success? If not, they routinely mess up orders, take too long to ship orders, deliver broken products to customers, and offer poor customer service. If you are working with a 3PL fulfillment center that lets your business down, it is time to switch.
A quality 3PL company should operate as an extension of your business. Here are some questions to consider when choosing a new 3PL warehouse:
Looking for a 3PL that will complement your growing business?


3PLs typically offer automotive logistics, trucking transportation, logistics, warehousing and distribution, and drayage. These services are important in scaling your business and getting your products to market. Looking at where your business operations fall short can help narrow down the best 3PL for your business. Carefully choose a 3PL that fits your needs. Some specific questions to consider include:
Where is your weakness? Is it in the organization, distribution, or transportation of goods?
What sets you apart from your competitors? Why would someone choose to do business with you?
Do you value speed and volume or customer service and value?
2. Is The 3PL Keeping Up With Technology?
A 3PL that keeps up with ever-evolving technology is a keeper. These logistics warehouses have a desire to deliver efficient, effective work to their clients. They will utilize technology to streamline their processes to provide timely, efficient service. Specifically, look for the following information when evaluating a 3PL:
What percent of the 3PL's budget and revenue goes towards technology?
How is the use of technology implemented across the organization?
How much of the technology goes towards client supply chain maintenance vs. innovation?
Can the 3PL's system easily integrate into your automatic inventory management, CRM, and routing tools?
3. Can The 3PL Grow With Your Business?
If scaling your business is your goal, you need a 3PL warehouse that can keep up. As your company requires more of your 3PL to handle extra inventory and market expansion, you have to be confident in the 3PL's flexibility. When peak and slow seasons hit, can the 3PL quickly pivot and scale up or down to limit supply chain carrying costs?
4. How Strong is The 3PL's Balance Sheet?
Like any business you decide to partner with to help run yours, the 3PL you're considering needs to be financially stable. 3PLs are capital-intensive businesses and face capital investments, business operating costs, and lease commitments. When a logistic warehouse provider struggles financially, they will be interested in making decisions that help their bottom line, not those of your company.
When researching potential 3PL partners, review the last few years of their profit and loss data. Do you notice any trends? Have they been able to weather past financial shortfalls? Do they have the funds to invest in innovation that can improve your business? Looking at what types of relationships they have with their banking partners is another thing to consider.
5. What's The Quality of The 3PL's Human Capital?
Finding good-quality logistics and supply chain talent is difficult and can pose challenges to you and your 3PL. When evaluating a 3PL, consider their human capital. You can observe this in the extent of their staff's experience and knowledge in warehousing and transportation. Look also at the experience of their management team. Some things to pay attention to include:
What's the depth of their talent pool?
Does the 3PL have a clearly-defined succession plan should there be a change in staff?
Will the 3PL replacement employee have the same management and communication skills as the previous employee?
Can the new 3PL maintain the same relationship with your business as the old one?
6. Does The 3PL's Culture And Values Match Yours?
When you work with the right 3PL, they will be on the same page as your business. Not all the 3PL logistics companies are the same. Pay close attention to the 3PL's culture and values. If they diverge from your own, the 3PL will not be compatible with your business model.
If the values of your company are different, there can be a breakdown in communication and customer service. Choose a 3PL provider that embraces your business' culture and values.
7. Can You Trust The 3PL?
A 3PL plays a crucial part in your company's bottom line. The closer you and your fulfillment center are, the lower the risk of miscommunication and mistakes by your 3PL. Trust and transparency are keys to developing this close relationship. If you know that you can trust your 3PL to do their job, you're able to focus on other aspects of your business. On the other hand, if your 3PL regularly communicates with your business, the better they can understand how your company operates and improve your bottom line.
8. How Do Natural Disasters Impact The 3PL's Performance?
A disruption in your supply chain halts the distribution of your products, which negatively affects your bottom line. Supply chain disruptions can be a natural disaster, power outages, or work shortages or stoppages. You can't halt your business operations because your 3PL doesn't have a disaster plan.
Supply chain disruptions significantly affect your bottom line and you need to have confidence in your 3PL. Despite increased risk of supply chain disruption, many companies are currently underfunding disruption-mitigation planning. Ask prospective 3PLs about their internal planning for disaster preparedness, labor shortages/stoppages, technology outages, weather-related transportation disruptions, and other risks particular to your product line.
9. What Additional Services Does The 3PL Offer?
You hire a 3PL logistics warehouse to handle the inventorying, shipping, and managing product orders. A fulfillment center dedicated to your business' success will have additional services beyond the basics. What are some of these added services? While these services will vary between 3PLs, look for those that offer networking opportunities and insights about changing industry trends, practices, and conditions. They teach their clients to be market-and industry-savvy to take advantage of business opportunities.
Choose a 3PL That Will Transform Your Business
When you're working with the wrong 3PL, your bottom line will suffer from poor customer service, breakdowns in communication, delays in shipments, and inventory hiccups. It is crucial to find a new 3PL that will support your company's growth and success. Ship My Orders is an experienced, dependable 3PL warehouse logistics company dedicated to client success. If you want a 3PL logistics company that will deliver and handle whatever growth challenges may come, contact Ship My Orders.