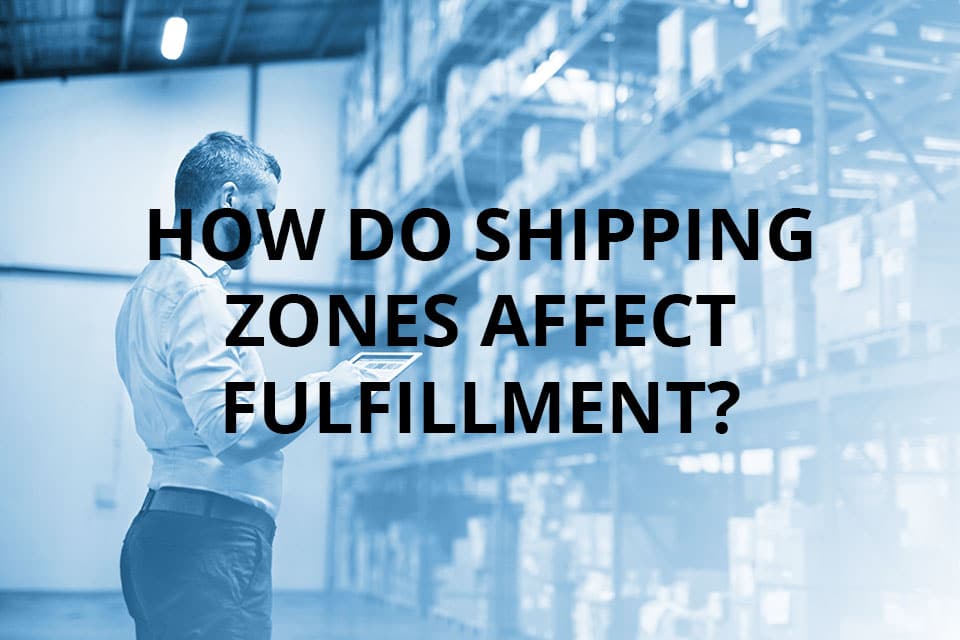 Customers today expect their purchases to be shipped quickly and at affordable prices. Business owners know that due to rising shipping costs, it is difficult to meet this client requirement. However, if a seller understands zone shipping, they can better fulfill their orders, keep their customers satisfied, and maintain affordable and fast deliveries. But is this something your company is ready to take on? Maybe your business would benefit more from outsourcing your shipping process. Read on to learn more about shipping zones, how they can affect fulfillment and if maintaining your shipping or using a third-party logistics company to handle your fulfillment needs would work best for you.
Does your company need help with order fulfillment?


What Are Shipping Zones?
Shipping zones are important to understand for all e-commerce businesses. These zones are geographical locations carriers have created to measure the distance a package or shipment travels. There are eight zones in the United States, Zone 1 through Zone 8, for domestic shipments within the US. These zones are measured in zip codes rather than miles and measure the distance from a shipment's point of origin to its final destination. The location from which a package ships is referred to as its point of origin and is called Zone 1. The destination zone is numbered 2 through 8, with 2 being the closest zone and 8 the furthest away.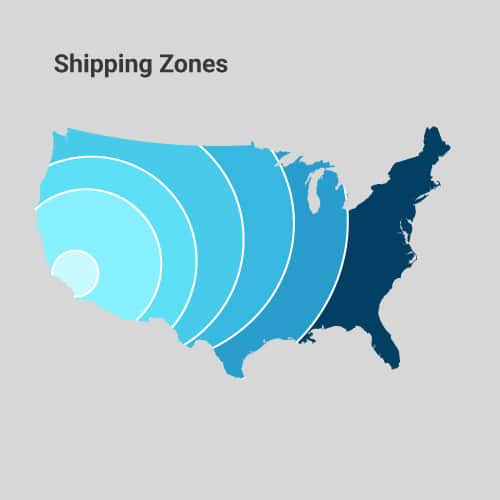 How Are Shipping Zones Calculated?
The way a shipping zone is calculated is based upon the location from which a package is shipped or its point of origin. You can get different shipping zone calculations depending upon if an item is being sent from a location further from or closer to your business or warehouse.
Shipping zones are always calculated from the point of origin. Zones also depend upon which carrier you use and what type of service you select (Next Day Air, Two-Day, Ground, etc.).
How Do Shipping Zones Affect Fulfillment?
Shipping zones are a major part of fulfillment, as they can impact cost and timeliness of shipments. The greater the distance between the warehouse filling orders and the customer, the higher the shipping zone will be and therefore, the higher the cost and the amount of time needed to deliver the order.
How Customer Shipping Zone Affects Delivery Time
A customer's shipping zone has a huge impact on the amount of time it will take to receive an order. If an item is sent to a client who is located close to the point of origin (Zone 1 or Zone 2), it will typically get to the client a lot faster than an item sent to a customer further away (Zone 7 or Zone 8). If your company has warehouses located in multiple shipping zones, they can get items to clients faster since there are multiple potential points of origin close to customers.
For example, if a client who lives in Shipping Zone 6 orders a new laptop, and you have a warehouse in Zone 6, you can ship their purchase to them quickly. But, if you only have products stored in your area, shipping to Zone 6 is going to take a lot longer than shipping the same laptop to someone who is closer to you, in Zone 1 or Zone 2.
How Customer Shipping Zones Influence Delivery Speed
A shipping zone can change how fast a package is delivered, because shipping zones are designated depending on the distance between the point of origin and recipient. A lower zone means that the location is close. A higher shipping zone means longer distances, which result in more resources, manpower and time — all factors which can affect delivery speed. By knowing a customer's shipping zone, companies can calculate how fast a product is delivered and hence ensure reliable and consistent customer service.
Shipping Zones According to Carrier
Another key factor that influences delivery speed is the carrier that transports the package. Usually, this carrier is a third-party company (3PL), such as the United States Postal Service (USPS), the United Parcel Service (UPS), or FedEx. Which carrier is used depends on both the customer's requested delivery speed, the type of package, and the carrier's own shipping and mail zones. These zones are calculated by the carrier's own third-party logistics and regulations.
USPS Shipping Zones
USPS divides shipping into nine zones. The zones are determined by calculating the distance between the package's origin and its final destination. Those zones are as followed:
Zone 1: 1-50 miles
Zone 2: 51-150 miles
Zone 3: 151-300 miles
Zone 4: 301-600 miles
Zone 5: 601-1000 miles
Zone 6: 1001-1400 miles
Zone 7: 1401-1800 miles
Zone 8: 1801+ miles
Zone 9: For Freely Associated States and U.S. Territories
However, it's important to note that USPS zones only pertain to customers looking to ship via priority mail, priority mail express, USPS retail ground, or bound printed matter. It is not used when referring to first-class mail, USPS marketing mail, library mail, or media mail. For more information, you can check the United States Postal Service Domestic Zone Chart.
Additionally, each type of mail has its own rate and timeframe. For example, if sent within the United States, priority mail can be delivered in 1-3 business days. Yet, priority mail express can be completed either next day or in 2 days. There is a flat-rate fee, too. As a result, the type of shipping, weight of the package, and shipping zone classification can all affect the timeframe and overall costs of delivery.
UPS Shipping Zones
On the other hand, in terms of what can be shipped and where it can be shipped, UPS offers more availability. This is because UPS is a 3PL company that can ship bigger packages worldwide. These differences mean that UPS is often cited as being more expensive and slower than USPS. It also means that UPS has to divide its zones in a different way.
As of 2020, UPS has more than 40 different mailing zones. The zones are dependent on the distance between origin and receiver; the lower the number, the closer the distance. For instance, a package between a warehouse in Las Vegas and customer in Las Vegas may be a Zone 1. Yet, a package between a warehouse in Las Vegas and Hawaii could be a Zone 46.
FedEx Shipping Zones
Similar to USPS and UPS, FedEx Shipping Zones are determined by distance. However, the number of mail zones available and how they are divided depends on the delivery method. FedEx Home delivers packages 150 pounds or less to business or commercial addresses, five days a week. On the other hand, FedEx Ground delivers packages 150 pounds or less to residential services seven days per week. Both of these services are divided shipping into 16 zones; Zone 1 is FedEx itself. As of 2021, these zones are as followed:
Zone 1: FedEx (Origin of Shipment)
Zone 2: 0-150 miles
Zone 3: 151-300 miles
Zone 4: 301-600 miles
Zone 5: 601-1000 miles
Zone 6: 1001-1400 miles
Zone 7: 1401-1800 miles
Zone 8: 1801+ miles
Zones 9 and 10: Shipments moving from the contiguous U.S. to AK and HI metro areas
Zones 11 and 12: Shipments moving from the contiguous U.S. to AK and HI rural areas
Zones 13–16: Shipment moving from AK and HI to the contiguous U.S.
How Customer Shipping Zone Affects Shipping Cost
In much the same way that a customer's shipping zone affects the delivery time for orders, a customer's zone also affects the amount it costs to ship an order. Shipping carriers use zones to calculate the rates they charge for delivery. Basically, the higher the zone an item is being shipped to, the higher the shipping costs will be.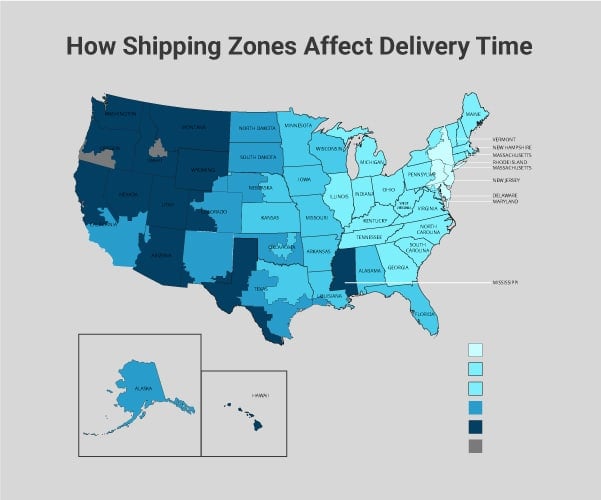 (For illustrative purposes only. Not meant to be an accurate representation of shipping zones.)
Some services use a flat rate for shipping, but most determine their prices based off of the zip codes and zones for the point of origin and destination of a shipment. For example, USPS uses zones for:
Priority Mail Express
Priority Mail
USPS Retail Ground
Bound Printed Matter
USPS does not use zones with:
First-Class Mail
USPS Marketing Mail
Library Mail
Media Mail
How Weight Can Amplify This Cost
On top of the distance an item needs to travel to be delivered, the weight of the item can also increase the cost for shipping. Carriers use the weight and dimensions of an item to determine the final price for shipping an order.
If an item weighs less than a pound, most carriers will ship it flat rate across the country and not factor in shipping zones. If the item weighs more, is in a large package, or is an odd shape, shipping prices will increase more the further from the point of origin the item needs to go. For example, if you are shipping a set of golf clubs to a customer, the carrier will take the weight and size of the package into consideration when determining the delivery cost. If the golf clubs are being shipped to someone in Zone 1, it will cost a lot less than if the large, heavy box needs to go to a client in Zone 7.
Strategies to Reduce Shipping Cost
Although the distance and weight of an item can increase shipping costs, there are a number of things you can do to lower the prices your company pays to send orders to your customers.
Reduce the number of zones to which your company ships: If your business only ships to nearby shipping zones, you can offer fast delivery as well as free or discounted shipping costs.
Include shipping costs in the price of the product: If you want to offer free or cheap shipping, increase the price of your products to absorb your shipping costs.
Offer free shipping on items that weigh less than a pound: Use a carrier that offers flat rate shipping to save money for your business.
Offer free shipping to customers who spend over a certain dollar amount: By encouraging clients to spend more money, you can more easily absorb the costs of shipping their orders.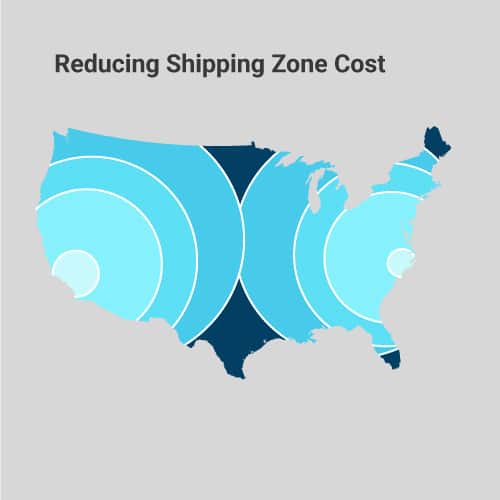 Best Fulfillment Locations with Shipping Zones in Mind
The best way to save on shipping costs is to have warehouses located in multiple different shipping zones. However, if your company cannot afford to have several different fulfillment locations, outsourcing your shipping needs will give you and your business more flexibility in regards to from where (which shipping zone) an order is shipped.
Related: How to Pick the Location of Your American Order Fulfillment Company
Companies that have access to several fulfillment centers located in a variety of areas will be able to lower their shipping costs. These companies can also get their products to their customers a lot faster since the products don't have as far to travel. If your company has a warehouse close to your client fill their order, you can save on shipping time and costs.
Taking the time to learn about shipping zones can help you determine the best way to deliver your products on time and at a decent price. Knowing your shipping zones will enable you to have a better fulfillment strategy, happier customers, and a better bottom line in regards to shipping costs.