Understanding Which Order Fulfillment Solution is Right for Your Business: Dropshipping vs 3PL Order Fulfillment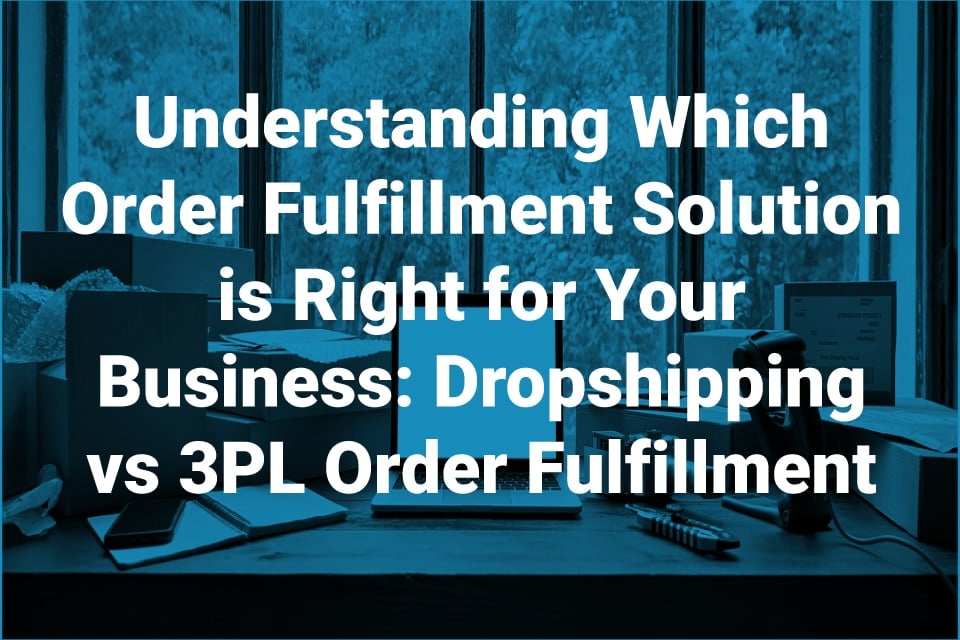 When it comes to the always-evolving world of e-commerce, it's essential for small businesses to stay current on the latest solutions and features that drive the industry. In this article, we will cover two different order fulfillment types, dropshipping and 3PL, otherwise known as third-party logistics. These are the two most common order fulfillment methods used by today's e-commerce businesses. Understanding the inner workings of these two types of order fulfillment services will help you understand which one is right for your business.
What is Dropshipping?
Dropshipping is a method where the retailer relies on a third party to manage and ship products to its customers. When the retailer receives payment from a customer, the retailer simply orders the product(s) from the third party company or the manufacturer of the product. The third party company sends it out directly to the customer. This method puts the responsibility of shipping logistics and inventory storage on the third party organization.
The best way to summarize this method is by thinking of the retailer as a middleman. All of the focus for the retailer is on generating sales. Once the sale is complete, the rest of the e-commerce order fulfillment process is in the hands of the third party shipper of the product.
Pros and Cons of Dropshipping
Just like any other business solution, there are pros and cons to dropshipping. Below is a quick overview of some of the main pros and cons to expect with this type of order fulfillment process.
Pros:

Less upfront money.

Without the need to purchase inventory, retailers don't have to invest large amounts of capital in upfront expenses.

Low overhead.

Similar to the above-mentioned pro, expenses are generally pretty minimal with inventory out of the picture.

Remote working capabilities.

With the dropshipping method, retailers can technically work anywhere with an internet connection.
Cons:
A highly competitive market with low profit margins.

With so many retailers using the dropship method due to the low start-up investments, profit margins are low. Keeping prices low is often the only way to compete in this kind of market.

High shipping costs.

With no control over order shipping details, retailers who dropship often get stuck with high shipping bills. Products may need to be shipped from different warehouses at different times. These high costs can't usually be passed on to customers without major backlash.

Errors from third party suppliers.

Retailers who utilize dropshipping rely heavily on third party suppliers to properly ship their items on time and in good condition. If an error occurs due to the third party's mistake, the customer will still only be upset with

your company

.

Limited ability to customize products.

Any business with customizable products that rely heavily on personalized branding will likely not be able to use dropshipping. The supplier has control over the inventory, making it very difficult for retailers to create unique products.
What are 3PLs?
A 3PL, also known as a third-party logistics, is a company that oversees supply chain management and logistics operations as an outsourced organization. A 3PL can be used for one service such as inventory management in warehouses, or for multiple services such as managing your products all the way through the supply chain from start to finish.Whichever solution you choose — end-to-end or otherwise limited — this option allows your business more control over your shipping and customer service than other types of shipping and logistics services.
Every e-commerce business approaches the order fulfillment process in different ways. With today's advanced technology, 3PLs continue to be one of the most popular ways to efficiently and effectively tackle order fulfillments.
Pros and Cons of 3PLs
Let's take a look at the pros and cons of 3PLs to see if this business solution might be right for your business.
Pros:
3PLs are more than just shippers.

These order fulfillment companies are shipping specialists that put an emphasis on high quality packing and shipping services. They can also help with customer service requests, product return management and other related product shipping services.

More control over inventory.

With a 3PL, you can manage your order storage capacity at a warehouse to better track and sell products that are in stock.

Superior customer service.

Faster order fulfillment occurs when using a centralized order fulfillment center of a 3PL. Getting your products sent out at a faster pace will help you establish loyalty among customers. This is also a great method to compete with larger retailers in the market.

Variable costs provide flexibility.

A retailer only needs to pay for the storage space that is needed for specific products. This kind of setup is much better than paying a fixed rate for storage space that needs to be sustained at all times.

A great choice for growing businesses. Businesses who outgrow their product storage capacity to fulfill orders in-house will find great success in 3PLs who can help them better expand with added services and more space for inventory.
Cons:
Inventory must be purchased ahead of time.

It's important to invest in a product that can be trusted to sell.

Capital is needed to purchase inventory.

Since you need inventory on hand, an investment needs to be made up front for this to happen. However, it is important to note that profit margins are higher using this method in comparison to dropshipping.
Which Is Right For Your Business?
Now it's time to make a decision that is best for the makeup of your business. For those start-ups with very little capital, dropshipping is a good way to start out. For start-ups with plenty of capital and those more mature businesses looking to increase profit margins, 3PLs are likely the best way to go. To get a better idea of where your business stands, check out this article on signs that it's time to use a 3PL. For those who are interested in additional fulfillment options, such as freight brokers, check out this article to help get you up to speed on how that might work for your situation.
Choose a 3PL for More Logistics Services Than Dropshipping
For those small businesses on the rise, a 3PL is most likely the solution to help your business reach the next level of success. While dropshipping is a good start for those looking to enter the e-commerce marketspace, its smaller profit margins don't usually equate to long-term success. For more information on finding the right fulfillment solution for your business, contact us today.