Fulfillment Center vs. Distribution Center: What is the Difference?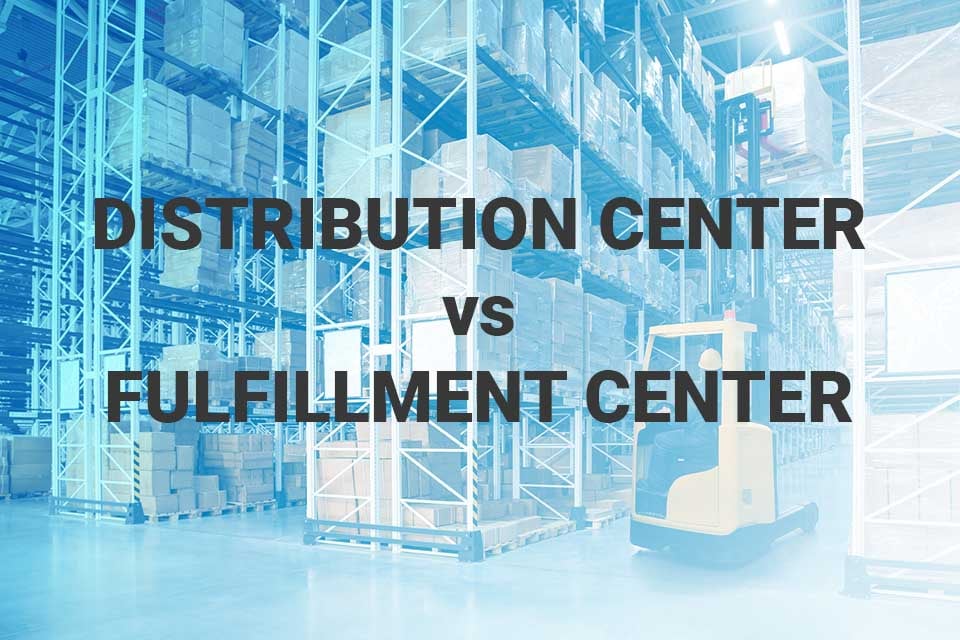 Your business is thriving, but you're starting to hit bottlenecks and need to quickly scale your shipping and fulfillment process to keep up with demand. You start looking into opening a new distribution or fulfillment center but soon find out they're actually two different types of facilities. This can cause you to ask, "what is a distribution center?" as you face serious questions about your challenges, where you want to take your business, and which facility is best suited to address your problems. Once you learn what each has to offer, you'll be able to choose the one that can help your business continue to grow.

Does your company need a reliable logistics partner?

What Is the Difference Between a Fulfillment Center vs. Distribution Center?
Choosing between a fulfillment center vs. a distribution center requires selecting one of two very different sets of services. Each one fills a crucial role in today's e-commerce landscape, but you may find one is better suited to your business needs.


What is a Fulfillment Center?
Fulfillment centers focus on quickly delivering goods to individual customers and offer an array of services to help with this goal. They typically receive, pick, pack, kit, and label your products and may also offer custom packaging. They may also have a dedicated customer service team that can handle interface with customers for you, allowing you to focus on more strategic goals. They can also help you save on overall shipping costs as they typically service many clients at the same time.
However, there are some trade-offs you'll want to keep in mind when looking at fulfillment centers. As they are focused on speedy, efficient delivery, they may hold less of your inventory at any given time. That means you'll need to continually replenish your stock, and you may be charged extra for any that isn't sold after a specific period of time, typically one month.


Third-party Logistics Companies as Fulfillment Centers
Most third-party logistics companies (3PLs) offer a relatively limited menu of services that focus on getting lower shipping prices for their clients. They won't offer the kind of bespoke services that small businesses need to reach their customers or for specialized orders that have a limited run. However, third-party fulfillment (3PF) companies do offer these services, along with 3PLs that operate their own fulfillment centers. Working with one of these 3PLs allows you to save on shipping costs while getting granular control over your fulfillment process.


Related Reading: How to Choose a 3PL Provider


What is a Distribution Center?
A distribution center combines some of the capabilities of traditional logistic warehouses with those of newer fulfillment centers, offering long-term storage options that can be synchronized to an extent with your delivery needs. They are often located close enough to major markets to make shipping to them fairly easy but far enough away to help you save on costs. They will also typically have the ability to ship them in bulk to other locations, especially other retailers who may sell your products.
Distribution centers tend to ship from business to business or to fulfillment centers, which means you will have a limited ability to ship directly to your customers. In addition, they offer less frequent shipping times and are dependent on certain volumes being shipped at once rather than individual orders. They are also typically located away from major markets, which can further increase shipping times. However, if your primary concern is moving more of your inventory closer to shipping points, then a distribution center could be right for your needs.


What is a Distribution Center vs. Warehouse?
Warehouses were once the critical node in supply chains and served as places where a large number of goods could be stored before they could be sold. However, as newer technology that could monitor supply flows made the just-in-time logistics system possible, warehouses became increasingly obsolete. While they're still in use, modern logistics chains need separate warehousing and distribution facilities.
Distribution centers facilitate the flow of goods from suppliers to retailers. Their primary role is to add value to a product through packaging, order fulfillment, cross-docking, or other services that set a product in motion. Rather than trying to optimize the use of storage space, distribution centers optimize the customer experience and attempt to minimize shipping times.


Related Reading:
Which is Better: A Fulfillment Center or Distribution Center?
Fulfillment centers and distribution have different but complementary capabilities, so you should carefully consider what each has to offer in light of your business needs before choosing one (or both).
Fulfillment and distribution centers are critical components of today's e-commerce logistical infrastructure, but each serves a specific set of business needs. In general, if your business is relatively small, doesn't have its own customer service division, and relies on delivering goods directly to customers, you may need the services a fulfillment center offers. On the other hand, larger businesses that need to ship items in bulk between locations may want to opt for a distribution center. Regardless of what you decide, it's important to choose a logistics partner you can trust to ship your goods on time, maintain your reputation with customers, and grow with your business.


Advantages and Disadvantages of a Distribution Center
Pros
Delivers bulk quantities of goods from business to business
Can store large quantities of your inventory at once
Offers long-term storage at relatively low costs
Helps you position more inventory closer to target markets
Costs less overall than fulfillment centers
Ideal for goods that do not require finishing or individual packing
Cons
Less frequent shipping times as goods tend to ship in bulk
Goods are delivered on palettes so aren't packaged at the center
Located further from markets so shipments may take longer
Little ability to interface directly with your customers
Offer fewer services overall than a fulfillment center


Advantages and Disadvantages of a Fulfillment Center
Pros
Delivers goods straight to your customers
Frees up space occupied by your inventory
Located close to your customers for short shipping times
Trained staff receives and handles your inventory
Can pick and pack products for you
Kitting services are often available
Can label shipments and sometimes offer custom packaging
May have a customer service division you can use
Will manage returns and offer reverse logistics services
Outsourcing logistics needs allows you to focus on your business's strengths
Automation offers transparency throughout each step of your supply chain
Cons
Related Reading: How to Pick the Location of Your Fulfillment Center
Searching for a Fulfillment Center?
The 3PL you work with is responsible for delivering every one of your packages on time and without mistakes. They also need to be able to handle any questions or concerns that your customers might have in the event that there is a shipping problem. Ship My Orders has a dedicated customer service team on-site at our warehouse, ready to field calls. We're accurate, quick, and responsive and can act in real-time to give the best customer experience possible, a critical requirement in today's competitive eCommerce environment. Visit our website to learn more about our order fulfillment services or request your custom quote today.