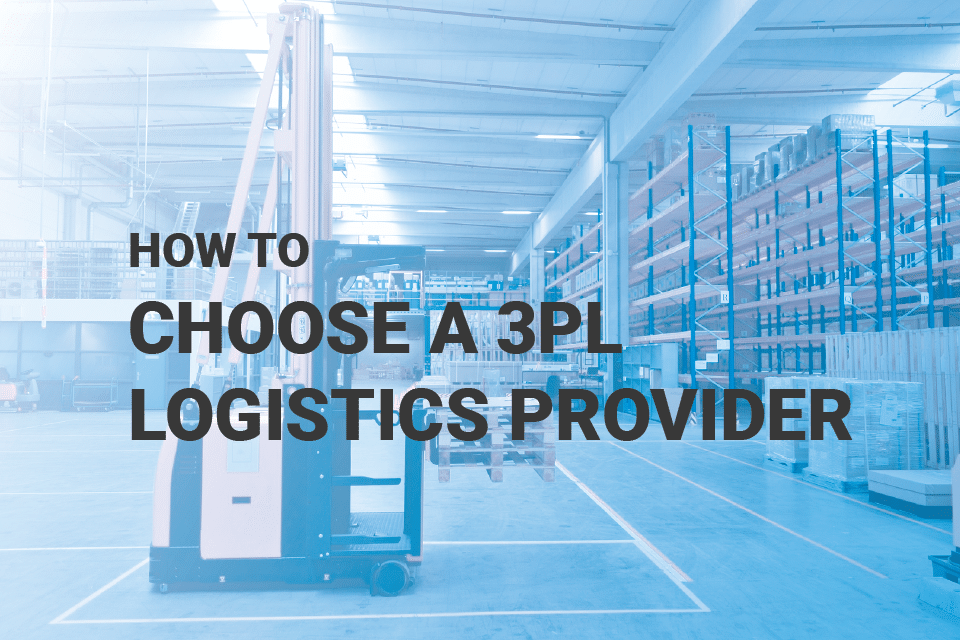 Your business is growing fast, and the biggest challenge you face seems to be filling your orders on time. While you could spend time trying to build up your logistics capabilities in-house, you're looking at the advantages of outsourcing. However, if you're going to ship all of your inventory to another company to deliver it for you, you need to find a partner you can trust. Learning about the criteria you should use to evaluate your choice of a third-party logistics provider can make your selection process much easier, helping you to smoothly transition your business to a new stage.
Looking for a third-party logistics provider you can trust?

What Is 3PL, and What Are the Benefits?
3PL, or third-party logistics, refers to the practice of a company outsourcing its logistics needs to a company that is dedicated to performing supply chain functions. 3PL companies can tap into economies of scale that can cut costs for shipping, warehousing, packaging, and much more. Many small to mid-sized businesses find it more economical to work with one rather than to build their own logistics infrastructure from scratch. This is a popular option for businesses that are trying to scale quickly or face highly variable demand throughout the year.
Related: Third Party Logistics (3PL): Advantages and Disadvantages
Some of the benefits of outsourcing your logistics to a 3PL provider include the following:
Lower shipping costs per package, as 3PLs regularly ship large volumes of goods
Opportunities to grow your market with an expanded geographic reach and lower shipping times
Previously existing supply chain infrastructure and expertise, which can save your business the resources needed to build your own
Scalability in your supply chain to meet the changing demand for your products
Packaging and preparation services, along with custom packaging options
Customer service and marketing needs, allowing you to further streamline your operations
Greater opportunities to specialize on your business's strengths, as 3PLs place their expertise in logistics at your disposal
How to Choose a 3PL Logistics Provider
There's a plethora of 3PL logistics providers to choose from, but only a handful will be suited to your business needs. You can save time and effort by knowing what questions to ask before beginning your search. Your 3PL will handle critical responsibilities in your business, meaning the one you choose needs to have a proven reputation for reliable, flexible service. You'll find that many 3PLs are happy to work closely with you to answer your questions, so it helps to get as specific as you can.
Related: Choose: Amazon Fulfillment Program vs. 3PL Alternatives
Types of 3PL Providers
The 3PL space is highly sophisticated and is home to a wide range of providers that are ready to match the specific needs of their partners. This is highly beneficial to businesses, as they can choose the specific bundle of services they need for the length of time required. Once you learn the differences between each type, you'll have a better idea of how to choose a 3PL provider.
The main types of 3PL providers are as follows:
Standard
A standard 3PL provider offers basic services such as the storage, transportation, pick and pack, and delivery of goods. A 3PL may ship to international, national, regional, or local customers. Standard 3PLs offer a small range of services and lower prices than more sophisticated providers.
Service Developer
In addition to the basic shipping services offered by a standard 3PL, a service developer will offer sophisticated technological services, including tracking and security options, to ensure the timely and accurate delivery of products. Service developers are more expensive than a standard 3PL and offer more of the services businesses need and customers expect.
Customer Developer
Customer developer 3PLs offer the closest relationship with their partner businesses, fully integrating with them and assuming all roles of their logistics department. As an active participant in the growth and development of the partner company, a customer developer 3PL makes hiring decisions and shapes the company itself.
Customer Adapter
Customer adapter 3PLs also take over a partner company's existing logistical operation and function as the logistics department. However, a customer adapter exercises a lesser degree of control over its development than customer developer 3PLs, serving as a manager of processes that the company sets, rather than a creative force in it.
Performance Requirements for 3PL Providers
Take a look at the following factors to learn how to choose a 3PL provider for your business.
Works With Your Brand: The right 3PL offers brand-specific services your company needs. They can work with you to fulfill limited-run deliveries or special deals your company offers. If you're running a subscription service, they should have the ability to fulfill a large amount of varying orders in a short amount of time.
Ships to Big-Box Retailers and Online Marketplaces: To get your products to the biggest markets, a 3PL will need to comply with standards for packing and shipping your goods and communicating what they are to major retailers and online marketplaces.
Integrates with Your Existing Systems: A 3PL should be able to integrate with inventory planning, marketing, and accounting systems your business already uses.
Related: How Much Does Order Fulfillment Cost?
Choosing the Right Logistics Company: 3PL Selection Factors
While comparing between 3PL providers can be a challenge given the different services each offers, there are a few considerations you'll want to evaluate with each one.
Pricing
The purpose of seeking out a 3PL provider is to save money on your shipping costs, so you'll want to find out what you'll pay for at each stage of the shipping process. Prices will vary for each service, such as picking and packing, kitting, labeling, and evaluating returns. If you're in need of long-term storage, some 3PLs charge considerably more than others to hold onto your inventory, especially after the first month. While prices for each service can vary widely between 3PLs, you can choose the right one by focusing on the costs for the services you'll use the most.
Reputation
Your 3PL should have a reputation for reliably delivering products on time and adapting to challenges as they arise. You'll also want to find out what types of clients they typically serve and if they have any specialities. You may find that some are better suited to help the type of business you run than others. Check to read reviews about the provider you might find online and ask if you can speak with some of their clients.
Location
The location of your 3PL provider's facilities can greatly influence how quickly your products reach your customers. Your business might have clients clustered in a particular region, or you might finally be ready for a national reach. Ask potential 3PLs where all of their facilities are, what areas they cover, and how long it will take to ship from each. Depending on your needs you might choose a regional provider, one with national coverage.
Scalability
Your 3PL provider must be able to quickly meet changes in demand, whether it's during the holiday right or after you unveil a new product or flash sale. If your business is growing, you'll want to learn what prospective 3PLs will do to meet your projected growth targets. Ask if they hire new staff during busier times of the year and what they can do to meet spikes in demand within your business. You will also want to ask what kind of training they give their staff, especially if you require specialist assistance.
Financial Stability
Be sure to evaluate the financial health of any 3PL you seriously consider as a candidate before hiring them. If the company fails, you could lose your entire logistics operation overnight, leaving your customers and inventory in limbo. Ask 3PL companies you're considering to partner with about their clients, their size, how long they have worked with them. You'll also want to look at what kinds of investments they are making in their facilities or personnel as a proxy for their financial health.
Steps to Take When Searching for and Evaluating 3PL Companies
Finding the right 3PL for your company can be a daunting process, but there are some ways you can make the search easier and more successful.
Focus Your Search
It's tempting to want to evaluate every possible 3PL partner, but this can take much more time and energy than you have. It's unlikely that any 3PL providers will be exactly alike in structure and the services they offer, which can make it difficult to conduct cost-effective comparisons. Meanwhile, your business still needs to grow, which makes it important to find a 3PL partner in a timely manner. Focus your search on a handful of potential providers and identify the ones that you like most. It helps to limit your in-depth evaluation of 3PL partners to 3-4 companies.
Speak with Their Clients
Ask potential 3PL providers who some of their current clients are to speak with them about their experiences. They'll be able to give you information about the 3PL's reliability, payment history, and benefits of working with them. You'll also get more insight about what it's like to work with each 3PL provider and how they have helped to change their businesses. You can also determine similarities between their logistics needs and yours, which can help you better evaluate the benefits of each 3PL.
Establish a Relationship
Your 3PL provider will handle critical functions of your business and will likely have access to valuable data, making it of paramount importance that you can communicate with them easily. You'll need to solve problems with them across long distances and under pressure, which makes it vital that you can work well together. You'll also need to place a high degree of trust in your 3PL. Talk to potential 3PLs about your needs and what you are looking for to see how well you communicate with one another.
Questions to Ask Potential Providers
Some of the questions you'll want to ask potential 3PL partners include the following:
How many facilities do they have, where are they, and can you visit them?
What are their shipping and handling times and what happens if they miss a target?
What is their inventory management like? Do they offer to palletize your items, custom package, label items, offer kitting services, or inspect returns?
Do they hire more staff to match demand, such as during holidays?
Can they integrate their inventory management software with your e-commerce platform?
Do they offer services in addition to logistics, such as product photography or customer service options?
During your search for a 3PL, it's tempting to focus on the ones that offers the lowest prices, but these can come with hidden costs. Your 3PL will handle a significant portion of your business, including potentially all customer-facing aspects of it. Therefore, your business's reputation will ultimately rely on the service your 3PL offers, making it vital to build a relationship based on trust and clear communication with them. By trusting your 3PL to deliver consistent service from the moment your inventory arrives at their facility, you'll be able to focus on your own strengths to continue improving your business.