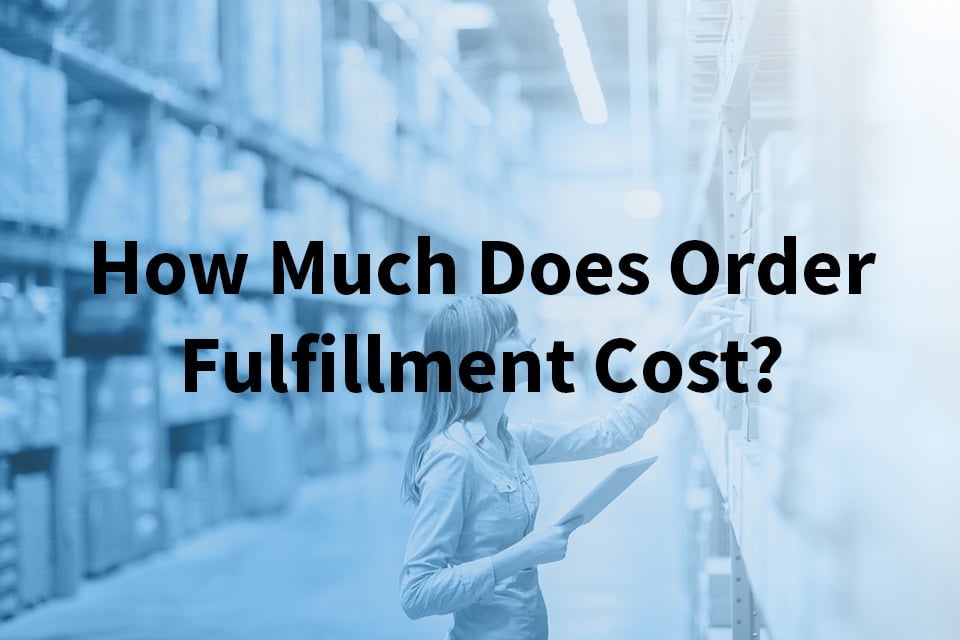 If you're thinking about outsourcing your shipping needs to an order fulfillment provider, you'll have to estimate how much it will cost to ship each package to see if outsourcing is worth it. Unfortunately, there is no industry standard by which you can easily compare your exact projected costs with what you pay now as each provider calculates the price for their services differently. However, there are a few rules of thumb you can use to calculate these prices on your own. Once you have an estimate, you'll know what to look for when searching or the right provider.
How Much Does Order Fulfillment Cost?
For all their differences, each order fulfillment provider offers the same basic set of services, meaning you can determine a reasonable estimate of the costs you can expect to face when shipping your goods with one. Each will receive and store your inventory, pack each order as needed, and ship them to your customers. Prices will be further influenced by the size and weight of each package, the complexity of each order, and the total volume of sales you make within a given period. You'll be able to find a provider that offers the particular suite of services at the right price once you know how they are determined.
Related: How to Choose the Location of Your American Order Fulfillment Company
What Factors Affect How Much Order Fulfillment Costs?
When developing a price estimate, fulfillment providers take the following factors into consideration:
1. Setup
Order fulfillment providers typically levy an initial fee to set up your services with their company. This price can be higher depending on the size and complexity of your business.
2. Receiving, Intake, and Storage
Your logistics provider will charge you to receive and process new shipments to their facility. They will also charge a fee for storing your inventory, which may increase depending on the length of time your goods sit unsold in their facility.
3. Order Fulfillment, Kitting, and Return
There are a set of fees you can expect to face which will cover the cost of packing or assembling each order. Depending on the number of orders you fulfill each month, you may get a lower price. You'll also be charged for each return, which will need to be processed and either sent back into inventory, returned to the manufacturer, or destroyed.
4. Shipping
You'll be charged for the cost to ship your goods to your customers, but your overall shipping costs may be lower or higher than those you currently face. Fulfillment providers ship out large volumes of goods at once and typically pass on discounts to their customers.
5. Size, Weight, and Volume
The price to ship your goods will vary depending on their size and weight, with larger and heavier packages costing more than smaller and lighter ones. If you are shipping are large volume of goods, you may receive a further discount on top of the ones you already receive from working with a fulfillment provider.
6. Account Management
You may be charged a fee to cover the costs of different additional services your provider may render to manage your account. These will cover any customer service issues that need to be handled along with any other services necessary for your account that aren't related to the shipping process itself.
Average Order Fulfillment Costs
A recent survey by FulfillmentCompanies.net, which compiled the responses by over 600 fulfillment providers, provides some useful price ranges for the services they typically offer. These ranges can serve as a useful basis for any calculations you may make when searching for a logistics provider. While these can be useful for your search, it's important to remember the price you pay for each service will ultimately depend on your specific needs. However, once you can estimate your average order fulfillment costs, you can find determine which factors are most for your consideration during your search.
According to the survey, you can expect to pay within the following price ranges for these services:
Setup: There will likely be a one-time setup fee typically ranging from $100 to $1,000 to open an account with your logistics provider. You will likely pay more depending on the size and complexity of your company.
Receiving, Intake, and Storage: It costs money for your provider to simply receive, process, and store your items. You can expect to pay anywhere from $20 to $50 an hour for these services, or between $5 to $15 to process each individual pallet. If you are simply looking for storage space, you can expect to pay a monthly fee between $.30 to $.55 per cubic foot. Smaller items may require storage bins, which can cost anywhere from $1 to $2.50 each.
Order Fulfillment, Kitting, and Return: Fulfillment centers may charge between $30 to $50 per hour for order fulfillment, kiting, and return services. On a per-item basis, vendors pay an average of $3 to $3.75. Return services may cost more depending on the condition of the returned items.
Shipping: While a variety of factors will affect how much you pay for shipping, one constant factor to note is that depending on the volume of your account, you can expect to save anywhere from 10 to 30 percent on your shipping costs each month.
Size, Weight, and Volume: You can receive a further discount if you store a large volume of goods with a provider. For shippers whose monthly sales volume exceeds 250 pallets, over half of providers offer an average of 14 percent. In addition, you may see a discount on your order fulfillment fees once you pass 1,000 per month. Taking out a long-term contract can further lower your prices.
Account Management Fees: If you aren't expecting many customer complaints or unforeseen problems, you may want to go with an hourly rate, which will range anywhere from $40 to $60. However, if you're dealing with a large volume of orders, it may make more sense to go with the monthly option, which typically involves a flat fee ranging from $75 to $250.
Related: Do You Have to Charge Sales Tax for Online Sales to U.S. Customers?
How to Calculate Fulfillment Cost Per Order
Cost per order refers to the total costs required to fulfill one order, which includes fixed costs that apply to all orders and variable ones that depend on what is being shipped. To calculate the average cost per order for your business, simply take the sum of your shipping costs over a certain period and divide it by the number of orders you filled within the same period. You will want to keep in mind that your variable costs may change depending on what you are shipping. In addition, any flat fees you pay for services should also be distributed across each order.
Once you know what to expect in terms of costs, you'll be able to intelligently shop around for an order fulfillment provider. However, in addition to looking at prices, you'll want to pick a provider with a proven track record of satisfying customers, and the infrastructure necessary to quickly handle any concerns or complaints. Your provider will be a partner to your business, and the right one can help you build a good reputation among them. With fewer complaints and a reputation for fast, reliable service, you can further grow your business while saving time and money.