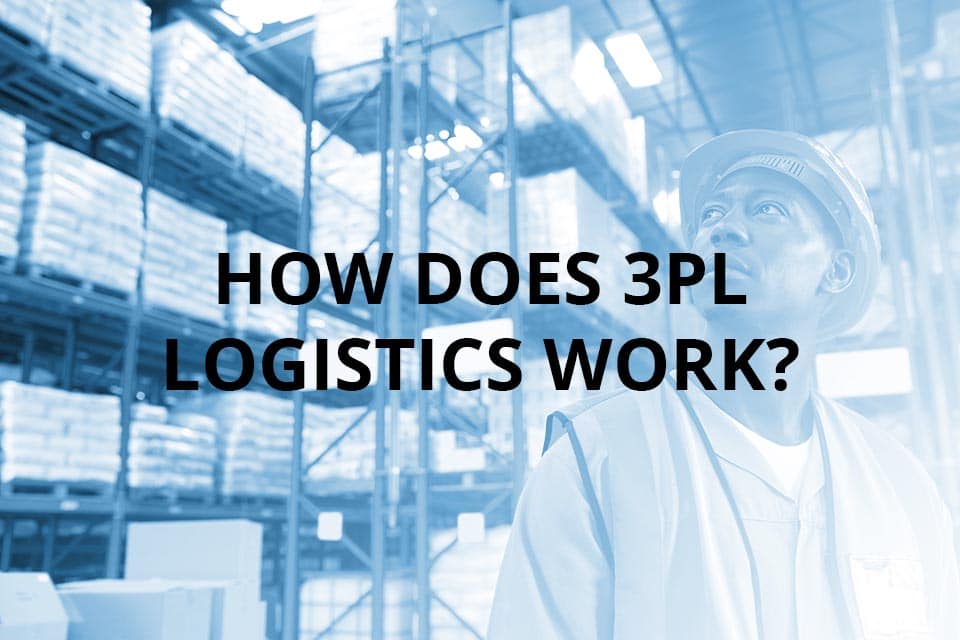 Most organizations would rather focus on sales, marketing and product development than spend time worrying about how to get their product to the customer. For businesses struggling with supply chain management, third-party logistics (3PL) may be the answer. Supply chain management is often the most costly aspect of running a business, requiring huge amounts of manpower, time, space, coordination, oversight and monetary investment. Let's take a closer look at why 3PL may be right for you, and also some reasons why it may not be the best choice.
Looking for a third-party logistics provider to partner with your business?

Why Do Companies Use 3PL Logistics?
Third-party logistics (3PL) is revolutionizing the way businesses perform supply chain management by outsourcing distribution and transportation, warehousing, packing, raw material provisioning, inventory forecasting and fulfillment services, among others. 3PL is so successful that more than 85 percent of Fortune 500 companies and 95 percent of Fortune 100 companies are utilizing some form of it.
A 3PL provider is an outside company that specializes in the storing, processing, and delivery of your products to your customers. They can take the form of warehousing companies, distribution centers, fulfillment services, or companies that offer a turnkey solution for all of your business's operational logistics needs.
There are many advantages to using a 3PL. Outsourcing the logistics of your supply chain allows your organization staff to spend valuable time focusing on work that generates revenue – such as product development, sales and marketing. 3PL can reduce costs, provide improved customer service and experience, reduce shipping delays (and other unforeseen circumstances), assist in investigating new markets without making a major commitment to them, and offer the flexibility to scale as needed.
Other advantages include:
Faster shipping times

Reduced shipping costs

Greater transparency of your supply chain

Optimization of the logistics process

Managed returns process

Improved international shipping logistics

Increased shipping volumes

Better customer service

A dedicated team of logistics professionals

Greater opportunity to focus on your core business
Disadvantages of a 3PL
As with anything, there are some disadvantages to using a 3PL:
Reduced delivery oversight: If a customer hasn't received the product they won't go seek out your 3PL – they will come to you for a resolution.
Investment: A 3PL may be a cost-saving solution in the long-term picture, but for small organizations the upfront investment may prove daunting. The less need you have for a 3PL warehouse and distribution center, the less likely it is you will find 3PL cost effective, at least initially.
Less control of your product: You could find yourself far from your product, depending on which 3PL you choose. This could become a problem if you need to access your supply for reasons such as changes or general quality control.
Related: Third-Party Logistics (3PL): Advantages and Disadvantages
Role of a Third-Party Logistics Company
3PL providers will take over the roles mentioned above. Depending on the size of your organization, a 3PL logistics provider could take on a number of additional roles, but typically for a small to medium-sized business these will consist of warehousing, shipping and receiving and distribution (transport). There are many other aspects a 3PL provider may handle. Perhaps one of the most interesting is to gain knowledge of your direct market. One example is…
Third-Party Logistics Examples
Let's use a fictional example to demonstrate how a 3PL can benefit your business. Megan, the former owner of a West Coast boutique wine store, began using a 3PL to ship cases of wine to her customers due to reduced cost, streamlined services and ease of use.
"They would just come in once a week, pick up the wine shipments, we would fill out a spreadsheet, and they would leave with the product," Megan said. "It was really simple and I didn't have to think about it anymore."
Megan housed her own inventory onsite and used 3PL logistics only for transportation and distribution, including occasional customer-satisfaction resolution.
"I spent a lot of time doing my homework and interviewing different providers to make sure they would fit my business, the size and type of customers we had.
"If they were late on a shipment, we worked out a plan to hold them accountable for that," she said. "We did this early in the contract negotiations and I used an incentive plan to encourage prompt delivery. They were good about working with us on that."
Megan says that the vast majority of her customers were satisfied with the fulfillment process.
"I would say 95% of my customers were satisfied. In the few cases where they weren't, my fulfillment provider did a good job of trying to rectify this with me because in the end I was responsible for customer satisfaction. In cases where it's out of your control, you need to make the resolution plan clear in the contract."
Megan said the only downside was her 3PL logistics provider cost her a little more than a traditional shipping service, but she felt the advantages were worth paying a bit more.
"It really is easy," she said. "What price can you put on peace of mind when you're running a business and thinking about 10 different things at once? I'm not going to say it was flawless, but if I had to do it over again I probably would."
Related: What's the Role of a Third-Party Logistics Company (3PL)?
How Does 3PL (Third-Party Logistics) Work?
A 3PL is also known as a fulfillment service. A simple summary of the division of labor between them and your business can be described as, you run the business and your 3PL handles the logistics of customer fulfillment. It is essentially a link in the supply chain that, because of the explosion of eCommerce, more and more companies are using to successfully outsource some or all of its distribution and fulfillment efforts.
A key to finding success using a 3PL is to not wait until it's too late. If your business is constantly growing and you're struggling with supply chain management, it's best to find a 3PL before you become overwhelmed with orders. However, if your organization is simply having a "one-off" sale with a small, temporary bump in growth, it may not make sense for you.
Here are a few questions it might be helpful to answer before deciding whether or not to use a 3PL:
How many orders are you fulfilling per day?
Do you lack warehouse/inventory space?
Are you experiencing consistent, sustained growth?
There are many types of 3PL logistics providers, so you also need to decide which service(s) will satisfy your business's needs. As noted earlier, some of the most commonly used services include:
Transportation
Distribution
Warehousing/product storage
Shipping logistics and receiving of your product(s)
If your organization is large and involved you might look into a full-service, end-to-end 3PL, but if you are small and more specialized you might only want to focus on one or two of the services listed above.
When preparing a Request for Proposal (RFP) to find the right 3PL, make sure it's as descriptive as possible regarding what your business does, who its customers are and any other information that will be critical to finding the right 3PL. The more detailed information you provide, the easier it will be to settle on the right fulfillment service provider. Let's take a closer look at that now.
How to Choose a 3PL Logistics Provider for You
There are many 3PLs out there ready to help you, but first, you need to determine your immediate business needs, overall costs, and long-term goals. Some things to look at before you make this decision include references and customer satisfaction, technology compatibility and volume. Let's take a closer look at these.
Volume:

Make sure you choose a provider who can handle your current product volume but also scale up to accommodate future growth.

Flexibility:

Your 3PL should be ready to make major changes to the number of goods your business ships at a moment's notice.

Technological Capabilities:

Choose a provider that has the technologies to track and deliver your packages. This will also make it easier to monitor key metrics about your fulfillment process.

Transparent:

Your 3PL should be transparent about their costs and what occurs at each link of the logistics chain.

References:

References and past performance will help you know whether others were satisfied with the performance of your provider. Were their deliveries on time as promised? What did they do to mitigate any complaints that may have occurred?

Trust:

Your 3PL logistics provider will occupy a critical point in your business and will ultimately be trusted with your entire inventory. You need to be able to trust them with this responsibility and to deliver on-time to your customers.
Related: How to Choose a 3PL Logistics Provider
As with any purchase you make, you expect satisfaction, and your 3PL should be ready and able to provide this. You should be sure to choose wisely before you decide on a company to handle your supply chain management needs. We are happy to answer any questions you have, so please click on the ad below to see what we can do for your organization. Thanks for reading, and we hope to hear from you!