The Difference Between Poor and Exceptional 3PL Customer Service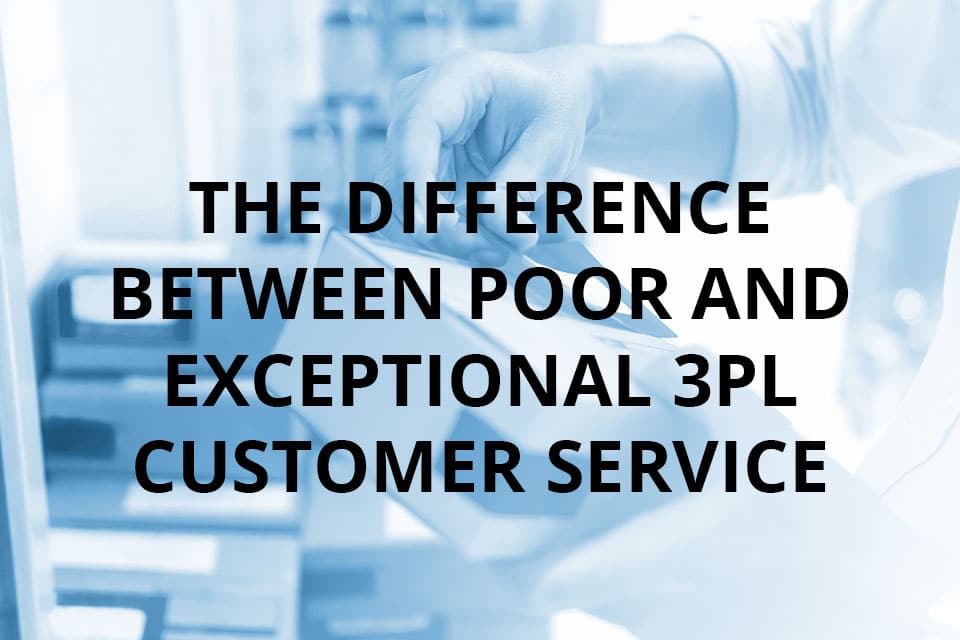 Times are tough for businesses these days. As a result of technological advances and an increasing trend of online shopping, there are many 3PL companies for businesses to choose from. But that doesn't mean they all provide the same quality of services.

Think about your current logistics company. This holiday season has been the perfect test to see how they perform under pressure. Are they on the ball with delivering your products on time? What about prompt and satisfying customer service communications? Do you know if your customers are happy? If you find that you are losing sales or hearing from angry customers, it's time to take a closer look at your 3PL fulfillment center's customer service practices and switch to a 3PL that cares about providing exceptional customer service.
Want a logistics partner you can count on?

How Much Do You Know About Your Logistics Provider's Customer Service?
Customer service is the glue that defines the relationship between you, your 3PL provider, and your customers. It really is a delicate balance. Think of it like a triangle. You are on one end, the customer is at the other end, and at the very top is the customer service department for your 3PL fulfillment warehouse provider. When one fails, the whole delivery system can fall apart. If you lose even one customer, the cost of acquiring a new one will do unnecessary damage to your bottom line.
Take a look at some 2020 statistics for customer retention:
PwC (Price Waterhouse Coopers) indicated employees with bad attitudes is the main reason customers will leave a business, according to 67% of Americans surveyed.
Oracle reports that 34% of customers will not return to a business if they have had just one bad experience.
Accenture found that 83% of American consumers want to communicate with humans for customer service issues, as opposed to dealing with digital channels.
Your customers expect value through customer service. When your 3PL provider drops the ball, it costs your business money and makes it look bad. Doesn't your business deserve better?
Examples of Poor Customer Service From a 3PL
Outstanding customer service is the heartbeat of a logistics company. When everything goes well and excellent communication is in place, you and your customers are happy. What does a poor customer service experience look like? You know it's poor customer service when the following incidents occur:
Poor communication between CS and product recipient
No one answers phone calls or responds to emails in a timely manner
CS personnel display negative attitudes
There is not a physical CS presence in the warehouse location
No proactive troubleshooting when a product is late or delayed
Staff is slow to respond to any situation
Your team spends more of their time fielding calls from frustrated customers instead of relying on your 3PL's CS to do their job
Does your current 3PL provider exhibit any of these characteristics?
Examples of Exceptional Customer Service From a 3PL
Customers expect to have exceptional customer service. When this happens, it makes them excited about their experience. They will tell others, share their experience online, and recommend your company. That type of satisfaction will increase your overall revenue, because those customers turn into brand enthusiasts. Having said that, you may ask what types of experience defines exceptional customer service?
They free up your staff's time.
Clear communication and training on how to respond to various scenarios will allow your logistics provider to do the following:
Stay focused and not call you for every little hiccup in the logistics process
Be proactive and understand how your fulfillment process works
They respond quickly.
If the customers' concerns are addressed promptly, usually within two hours of inquiry, then customers will be happy. They will feel like they "mattered" and were not ignored.
They provide clear and helpful communication.
Nothing frustrates a customer more than not knowing where their product is. If a product is damaged, delayed, or will not be fulfilled, then the customer needs to be advised of what is happening and what they can expect.
Phone calls are answered by real people.
Nothing turns off a customer more than calling a business and trying to communicate with an automated answering service. For savvy logistic businesses, customer service employees answer calls, respond to emails, and have a physical presence in the warehouse.
They are trained properly.
Good customer service reps know their business AND YOURS. They must be trained properly to understand your brand and products, know best practices for when problems occur, and provide consistent customer service and responses.
They inform your business and customers about delays.
Delays sometimes happen during the shipping process. When a shipment is unavoidably delayed, then a reputable customer service employee will promptly call or email the customer to update them. This keeps the customer in the loop and keeps the customer happy.
They are located at the warehouse.
The customer service team is physically located at the warehouse, which allows them to quickly update and change orders to the customers' satisfaction.
They are open to your feedback and eager to meet your satisfaction.
Logistic fulfillment centers would not be in business without people like you. It is a symbiotic relationship. If any part of the fulfillment process is breached, then they should welcome your feedback and suggestions on how to improve.
Don't Lose Customers Due to Bad Customer Service from Your 3PL
When you recognize the difference between poor and exceptional customer service from a 3PL, you will be able to figure out if your 3PL is helping your business retain customers or is driving them away. We pride ourselves on providing exceptional customer service, with our customer service personnel providing quick and accurate assistance, as well as being physically located onsite at our warehouse. Don't let your 3PL drive away your customers. Contact Ship My Orders today!