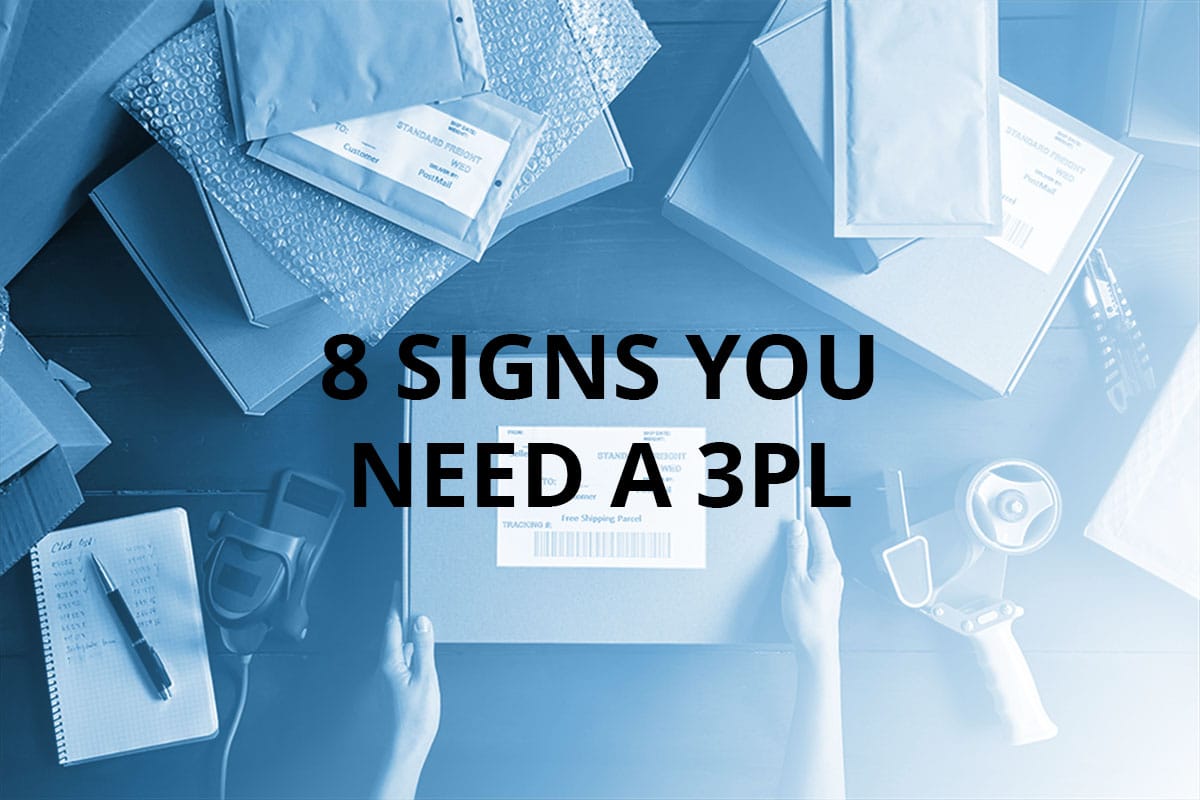 If you started your business out of a garage with two friends and one packing tape dispenser between the three of you, you're likely used to handling your own logistics and shipping. However, as your company has grown in size and customer base, the old methods of fulfilling customer orders just aren't cutting it anymore. Without some outside help, your growth will be stunted and you'll actually lose customers as the quality of your service declines. While it can be scary to make the leap towards a third-party logistics provider (3PL), that's exactly what you'll have to do to expand your business.
Not sure that you're ready to work with a 3PL provider? Here are eight signs that it's time to outsource logistics and take the pressure off your team.
via GIPHY
Looking to partner with a third-party logistics provider?

It's Hard to Keep Up With Demand
When orders were few and far between, there was plenty of time to juggle your multitude of business responsibilities along with packing and shipping products. In fact, the first few times you shipped out product, you probably did a little happy dance.
Now, however, those orders are coming in faster and piling up. While you're excited that business is picking up, there's no time to dance anymore. You never imagined that having high demand would present challenges; after all, that's what you've wanted from day one. Yet here you are, scrambling to get promised items out in a reasonable amount of time while still handling administrative, management, and sales responsibilities.
It's too much for you to handle, and if you continue to try, you'll have some very angry customers to contend with. Missed delivery dates, poor customer service, potentially shoddy workmanship… Don't ruin your business when you have the opportunity to grow it!
There's Poor Customer Communication
With so many modes of communication in our current world, customers expect up-to-the minute updates regarding their purchases and the journey their items go on. Make no mistake, customers WILL go elsewhere if they don't know what's happening with their order or when they can expect to receive their shipment.
For a growing business handling its own warehouse logistics and shipping, there's no time to provide constant updates. You need a third-party that will keep your customers in-the-know and provide excellent customer service to your business, so you can get back to what you do best.
You're Making Mistakes in Order Fulfillment
It's easy to make a mistake. One moment of distraction and you have a potentially costly error on your hands. Whether you're sending the wrong items to the right address or sending the right items to the wrong address, you're bound to upset your customer base. While handling your own fulfillment may seem like the money-saving option in the short run, having to resend packages and send out duplicate items will come back to bite you in the long run.
Hiring a 3PL to handle fulfillment and shipping the right way the first time, saves businesses money and hassle over time.
Things Are (Even More) Complicated
When your operation was small and orders were only occasional, business and life was much simpler. Of course, you didn't go into business for "simple" — you went into business for "successful," but there's no need to make things more difficult for yourself and your team. As logistics become more and more complicated, other elements of your business and your personal life will suffer.
Instead of working your employees to the bone or spending your precious free time on the fulfillment line, outsource your shipping to prevent burnout.
You Can't Get Data About Your Supply Chain
As a business owner or manager, you need to have access to data at all times. You need to know where your materials are and when they'll arrive, what orders have come in, and when they are going out. Without this information, you lose out on valuable data that could help you make smarter decisions. Without accurate data, you'll likely waste money and time. A good 3PL can manage your inventory and provide the data you need in real time.
Shipping Costs Are Eating Your Margins
Fulfilling your orders can be expensive! Between the packing supplies, labor, and shipping cost, your profits may not be exactly what you were hoping for.
It may seem counterintuitive, but hiring a third-party shipping company can actually save your business money. This is because the right 3PL has negotiated lower rates with carriers like USPS, UPS, DHL, and FedEx. Plus, they've optimized their processes to ship products effectively. Add the savings in labor costs and it's more affordable to outsource.
A 3PL can even handle returns so you don't have to.
Everyone's Working Longer
When you hired your team, you touted the importance of work-life balance. Yet, your employees haven't seen the sun in weeks, and they are missing out on important family time trying to keep up with the orders pouring in.
Rather than subjecting yourself and/or your employees to a work-all-the-time culture, you can outsource this role and have days off once again.
There's No More Room
Out of storage? If you've had to sell your office furniture to make room for products, it's (well-past) time to hire a 3PL. They will store your merchandise safely and effectively so you can get back to work and get back to walking around the office without tripping.
Looking for a Reliable 3PL? Ship My Orders Could Be the Partner You Need
Selecting a logistics company can be daunting for any business. You want to make sure that they'll handle your customers with the same respect and efficiency that they've grown to expect. You also want to find a company that makes working together easy and stress-free.
Ship My Orders is the resource your business needs to grow and stay successful. We can warehouse your inventory, save you on shipping costs, handle fulfillment and delivery, manage returns, and even take care of customer service. We take the stress out of fulfillment so you can get back to doing what you do best: manufacturing and selling your products.
If you're ready to scale your business while keeping your customers happy, contact Ship My Orders today and let us make your life a whole lot easier and profitable!