What's the Role of a Third-Party Logistics Company (3PL)?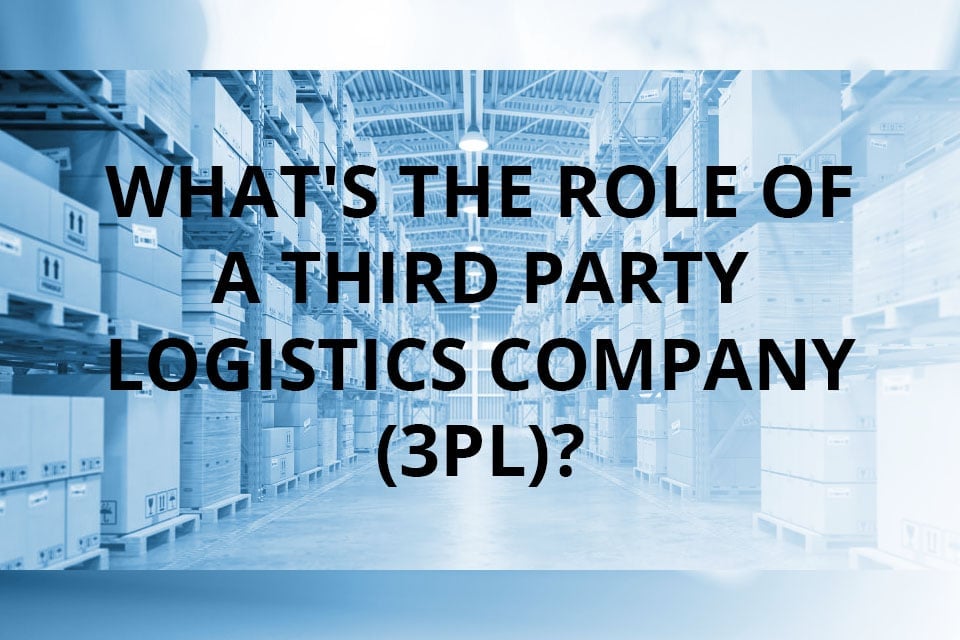 When logistics is not your company's main skill, it can help to hire a sub-contractor who specializes in shipping and distribution to assist with those tasks. But making the decision to outsource work from your business can be a difficult job. Choosing the correct provider who will meet all your needs, work within your budget and schedule, and help keep your company running smoothly can take some time. Knowing the pros and cons of using a third-party logistics company (3PL) will make the selection process easier and help you pick the right company to trust with your inventory and your business.
Ready to discuss your order fulfillment needs?

What's the Role of a Third-Party Logistics Company (3PL)?
Third-party logistics companies provide supply chain processes for a variety of industries. These companies specialize in procurement, transportation, and distribution functions and can customize their services to meet each client's needs. Third-party logistics companies take the burden of inventory management off of their customers' shoulders and use their logistics skills to allow their clients to focus on their own products and services.
Instead of worrying over the costs of labor, storage, and technology related to receiving and fulfilling orders, you can hand these tasks over to a 3PL. A 3PL can save you time and money by supplying staff for handling inventory and shipping, and usually offers better prices due to bulk discounts on packing and other logistics needs.
How Does a Third-Party Logistics Company Work?
Logistics companies use their knowledge of supply chain processes and procedures, along with their network of inventory and shipping contacts to take this work off of their clients' hands. The main services most third-party logistics companies offer include:
Receiving – The 3PL will have your products and inventory shipped to their warehouse. They will store the goods for you and handle all the details of handling and organizing your items.
Picking – When you have an order, the third-party logistics company will collect or "pick" the items for the order and organize them for each client.
Packing – Once an order has been "picked", the 3PL will securely pack the items for shipment. The logistics company will supply all of the packing materials, such as boxes, packing tape and bubble wrap so you don't have to!
Shipping – The third-party logistics company will handle shipments of your orders to your clients. Working with a variety of carriers, your orders will be expertly labeled and sent to your customer in whatever manner they choose.
Returns – Many 3PLs offer services for handling returns. If a customer needs to send an item back, the third-party logistics company handles the process, returning the goods to inventory or disposing of them if you prefer.
Some 3PLs also offer inventory management, quick-turn-around shipping times and other services business owners might need to help with managing their supply chains.
Related: What is the Difference Between 3PL vs Freight Broker?
Third-Party Logistics Examples
How can third-party logistics really help me, you might ask? Here are a few examples of businesses that benefited from hiring a third-party logistics company to assist with their logistics needs.
Sara's new t-shirt business has really taken off in the last few months. Her sales have sky-rocketed and she is even getting overseas orders. Keeping up with her inventory has become overwhelming for her. The small storage room in her company's office can't hold all of the shirts she and her employees are creating, and trying to get shipping labels printed, packages assembled, and orders sent to the correct locations is taking too much of her designers' time. She needs some help! After researching the benefits of using a third-party logistics company, she has decided to use Acme Logistics to handle the supply chain process for her t-shirts. Acme can store Sara's shirts, take care of packing and shipping all of her orders, and their network of contacts will get her the best possible prices for domestic and international distribution. Sara can now focus on continuing to build her business and channel her energies into creating more great shirts
Mike has expanded his family's candy business since he took over five years ago. When he started, it was a small group of people who were able to run a small store inside the candy factory, and delivery was confined to the local area. Since Mike added online ordering to the company's services, he is having a hard time keeping up with the demand for shipping candy across the country without it spoiling or melting. When he found out that the Mega-Logistics Company offered refrigerated storage and shipping, he contacted them right away. Mega-Logistics was able to better organize Mike's inventory and keep the candy fresh from receipt in their storage warehouse through travel and delivery to his customers.
Third-Party Logistics Advantages and Disadvantages
While there might be a few drawbacks to outsourcing logistics for your company, there are numerous advantages to using a 3PL for your supply chain needs.
Advantages
Cost and time savings
Flexibility and scalability
Access to logistics experts
Low capital commitment
Simplification of logistics processes
Ability to focus on your business
Disadvantages
Lack of control over logistics and delivery functions
Lack of contact with customers
Larger up-front investment
Distancing from products
Disagreements over the level of service provided
Related: Third Party Logistics (3PL): Advantages and Disadvantages
What Types of E-commerce Businesses Should Hire a Third-Party Logistics Company?
Small to mid-sized e-commerce businesses have the most to gain when they partner with third-party logistics companies. These are the types of e-commerce businesses that should hire a third-party logistics warehouse and logistics provider:
Companies that want to quickly scale their operations to meet increased shipping and delivery demands
Businesses that are too small to build and efficiently run their own internal logistics infrastructure
Companies with variable demands throughout the year
If you don't know whether your business can benefit from working with a 3PL services company, here are some questions to ask yourself:
Can You Keep Up With Your Orders?
Is your business at the point where orders are piling up? Do you struggle with handling your business' sales, management, and administrative duties because all your time and energy are dedicated to logistics? If you answered yes to either of these questions, it is a sign you should partner with a third-party logistics provider.
Trying to manage your growing business' logistics on your own can have devastating consequences including angry customers, poor quality workmanship, missed delivery dates, and dismal customer service. Each of these can destroy your business rather than expanding it.
Do You Communicate Well With Customers?
Having a system in place that keeps customers informed about the status of their order during delivery will keep your customers happy. Customers who have a positive experience with your company will likely return and result in your business' growth. Working with a third-party logistics warehouse and shipping logistics company will keep your customers in the know about when their order will be shipped and when they can expect to receive it. If you don't have this level of communication with your customers, you risk losing them.
Are You Making More Mistakes With Orders?
When it comes to order fulfillment logistics, human error is basically inevitable. However, if your company is constantly missing delivery dates, shipping to the wrong location, or delivering the wrong items, you need a 3PL. These mistakes will drive away customers and put a potentially irreversible stain on your company's reputation.
Are Your Logistics Too Complicated?
As your company grows, its logistics and operations will become more complex and complicated. If you don't have the workforce, skills, tools, or resources to tackle the increased complexity, you and your team will get burned out. Third-party logistics companies are armed with programs, software, skills, and expertise to help your business' logistics and operations run smoothly as they grow and become more complicated.
Can You Access Supply Chain Data?
For your business to grow and succeed, you need to make smart decisions. You can't make logistics decisions without data about your supply chain. Knowing where your materials are, when your materials will arrive, what orders have come in, and when the orders will be delivered are some of the key data you need access to. Handing your logistics to a 3PL warehouse and logistics provider will give you access to valuable supply chain data that can save your business time and money.
Are Your Shipping Costs Eating Your Margins?
The costs of packing supplies, labor, and shipping can add up. If you're handling your own logistics, you can be spending more on order fulfillment than you need to. The costs of shipping orders will eat away at your margins. Working with a third-party logistics company can save your business money with discounted rates from carriers like DHL, FedEx, UPS, and USPS.
Are Your Employees Continuously Working Overtime?
A work-life balance is important for employees to perform their best. It will also keep employees and happy. If the volume of orders coming in is so great that your employees must constantly work overtime, you need a 3PL services company.
Do You Have Enough Storage Space?
Is your warehouse large enough to store your entire inventory? If you don't, third-party logistics providers offer secure and convenient warehouse storage.
How to Choose The Best Third-Party Logistics Company For Your Business
You know you need a third-party logistics company, but how do you know which one is best for your company? It's important to note there are multiple types of 3PL providers.
Types of Third-Party Logistics Providers
Standard. These providers offer storage, packing, goods delivery, transportation, and other basic services. Standard 3PL providers offer a smaller range of services and lower prices than larger providers do.
Service Developer. A service developer 3PL offers more sophisticated shipping services such as tracking and security that ensure the accurate and timely delivery of goods. These 3PL providers are more expensive and have more services.
Customer Developer. These 3PL providers play an active role in the logistics department of a partner organization. They are involved in hiring decisions and the integration into the current logistics team. They have a close relationship with each business partner and may shape the company partner.
Customer Adapter. Like customer developer 3PLs, custom adapter providers function as a business' logistics department. Customer adapter 3PLs, however, don't have as much control over a company's logistics development.
Questions to Ask Potential Logistics Providers
Below are some questions to ask a 3PL service provider:
What are the number and location of their facilities?
How fast is the delivery time? What happens if a delivery misses the date?
Does their inventory management include palletizing inventory, custom packaging, item labels, kitting services, return inspections?
Do they hire more staff to match busy times like holidays?
Does their inventory software integrate into your e-commerce platform?
Do they offer additional services such as product photography or customer service?
Does the 3PL offer the services your business needs?
Does the company utilize the latest technology?
Do their culture and values match those of your organization so it can grow with your business?
Does it have a strong balance sheet?
Can you trust them?
Does it have a clearly defined succession plan?
What are their prices for each stage of the shipping process?
Does this 3PL have the same relationship with your business as you had with the old one?
Will natural disasters impact the 3PL's performance?
Performance Requirements for 3PL Providers
Below are some characteristics to consider when looking at prospective third-party logistics companies:
The 3PL company works with your company and meets its unique logistics needs
They work with reputable big-box retailers and online marketplaces
The company has a reliable reputation
They have conveniently located 3PL warehouses and facilities
The third-party logistics company is financially stable
The company is equipped to scale with your business on your timeline
How to Evaluate Prospective 3PL Providers
It can take many months to find the best third-party logistics company for your business. Chances are, however, your company can't afford to wait this long. Here are some steps to evaluate prospective 3PL providers so your search is short:
Focus Your Search. Narrow in on three to four 3PL companies. This will save you valuable time.
Read or Listen to Customer Reviews. Speak to or read online reviews of current and past companies that have worked with a specific third-party logistics company. You'll learn valuable information about working with the 3PL partner such as its reliability, payment history, and benefits it offers clients.
Establish a Relationship and Communicate. The 3PL company you select will be able to access private business data and handle important aspects of your company. It is important you establish a trusting relationship and establish regular communication. Discuss your business's needs with potential third-party logistics companies.
When Would a Company Choose to Contract With Third-Party Logistics Companies?
If your business has grown and the work of shipping, receiving, and inventory control have gotten beyond your control, it is probably time to look into hiring a 3PL. 3PLs have the professional expertise to take on the tasks – and the cost – of storing, packing, and delivering your products. Outsourcing your supply chain processes to Ship My Orders can simplify your operations, save your company time and money and take the burden of logistics off your mind. Find out if we're the right fit!